National Assembly of the Republic of Serbia / Activities / Activity details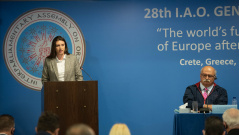 25 July 2021 The Head of the National Assembly's delegation to IAO Sanja Lakic
Wednesday, 28 July 2021
IAO Delegation at IAO Session
The delegation of the National Assembly of the Republic of Serbia to the Interparliamentary Assembly on Orthodoxy (IAO), comprising: Sanja Lakic, Head of the standing delegation, and Aleksandar Cotric, member of the standing delegation, took part in the 28th General Assembly of the Interparliamentary Assembly on Orthodoxy (IAO), held 22-25 July 2021 on Crete.
---
The General Assembly main topic was "The future of the world, the future of Europe after the pandemic". The session was attended by MPs from the IAO member countries, representatives of the orthodox church, international parliamentary organisations and the local authorities.
Addressing the General Assembly, the Head of the National Assembly's standing delegation to IAO Sanja Lakic expressed satisfaction that Serbia hosted a meeting of the IAO International Secretariat, committee chairs and rapporteurs in June this year, as the first in-person event organised after the improvement of the situation caused by the COVID-19 pandemic. Lakic pointed out that Serbia is successfully fighting the corona virus because it has provided all the necessary medical equipment and built three large COVID hospitals. She added that Serbia also helped the region fight the virus and that Belgrade has become the regional vaccination centre.
Standing delegation member Aleksandar Cotric said that the world would be truly different after the coronavirus pandemic, a place of an ongoing health and economic struggle at the international level. He added that the countries of the world have never been more closely connected than today, because humanity shares a common fate. He pointed out that two topics will emerge as most important in the future: the first being whether there would be a new wave of the pandemic and how to fight and prepare for it, and the second - economic recovery.
---
Photo gallery
---
---