National Assembly of the Republic of Serbia / Activities / Activity details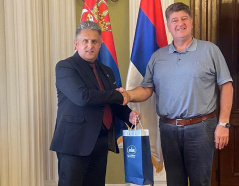 15 July 2022 The Head of the PFG with Slovenia and the Prefect of the Municipality of Sentjernej
Friday, 15 July 2022
Head of PFG with Slovenia Meets with Prefect of Sentjernej Municipality
The Head of the PFG with Slovenia Milija Miletic met today, at the National Assembly House, with the Prefect of the Municipality of Sentjernej Joze Simoncic.
---
Welcoming the Prefect of the Municipality of Sentjernej, Milija Miletic took the opportunity to highlight the friendly relations between the two countries, stressing that Serbia and Slovenia share exceptional political relations and positive trends of economic growth.
Milija Miletic informed the guest about the results of the recent parliamentary and presidential elections in Serbia, saying that the new MPs' terms of office are expected to be verified by the end of the month, soon to be followed by the formation of a Government.
The officials went on to discuss the current political situation and war in Ukraine, as well as the accompanying challenges to the people of both countries.
Finally, they concluded that there is room to intensify cooperation via an exchange of visits of parliamentarians and other officials.
---
---
tuesday, 30 may
11.00 - the Head of the PFG with Malaysia meets with the Charge d'Affaires of the Embassy of Malaysia (National Assembly House, 13 Nikola Pasic Square, hall 2)

13.00 - press conference of MP Aleksandar Jerkovic (National Assembly House, 13 Nikola Pasic Square, Central Hall)

14.15 - the National Assembly Speaker meets with German Bundestag members (National Assembly House, 13 Nikola Pasic Square, hall 1)

15.00 - Third Extraordinary Session of the National Assembly of the Republic of Serbia, 13th Legislature (National Assembly House, 13 Nikola Pasic Square)

15.30 - the Chairman of the Committee on Human and Minority Rights and Gender Equality meets with German Bundestag members (National Assembly House, 13 Nikola Pasic Square, hall 2)

15.30 - press conference of the MPs of the Serbian Movement Dveri – Patriotic Bloc, Serbian Party Oathkeepers and HOPE – NEW DSS – POKS parliamentary groups (National Assembly House, 13 Nikola Pasic Square, Central Hall)