National Assembly of the Republic of Serbia / Activities / Activity details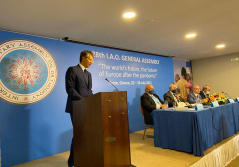 23 July 2021 Mladen Grujic, member of the National Assembly's standing delegation to the Inter-Parliamentary Union
Friday, 23 July 2021
Grujic Represents IPU at IAO Session
Mladen Grujic, member of the National Assembly's standing delegation to the Inter-Parliamentary Union (IPU), represented the IPU President at the 28th General Assembly of the Interparliamentary Assembly on Orthodoxy (IAO), held 22-25 July 2021 on Crete.
---
During the inaugural ceremony, he pointed out that, despite the challenge posed by the pandemic to the resilience of parliaments, these institutions as guardians of human rights and the rule of law remain crucial for building societies better prepared to work, first and foremost, for the benefit of citizens. He reminded the assembled of the successful cooperation between IPU and IAO, especially in terms of promoting intercultural and interfaith dialogue.
Speaking at the opening session on "The future of the world, the future of Europe after the pandemic", Grujic opined that parliaments must continue to play a major role in understanding risks, adopting preventive measures, dealing with fake news and cooperating with all partners and actors. He especially emphasised the importance of strong parliamentary systems for the exercise of fundamental human rights and the protection of the citizens from the long-term consequences of the pandemic. Clear procedures and rules, with a specifically defined role and responsibility of each political actor, especially within the executive and parliamentary institutions, can be a key factor in emergency preparedness that can mitigate the negative consequences as much as possible.
---
---