National Assembly of the Republic of Serbia / Activities / Activity details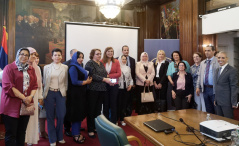 10 July 2019 The members of the informal Green Parliamentary Group in meeting with the Algerian parliamentary delegation
Wednesday, 10 July 2019
Greens Meet with Algerian Parliamentary Delegation
The members of the informal Green Parliamentary Group met with the Algerian parliamentary delegation headed by Jafar Noara Sadia.
---
MP Jasmina Karanac, coordinator of the informal Green Parliamentary Group, opened the meeting highlighting the traditionally good relations between Serbia and Algeria which she hopes would continue to expand in the future.
Speaking of the informal Green Parliamentary Group, she said that it was set up 10 years ago, in 2009, at the initiative of two NGOs which today make up the informal Secretariat of the Green Parliamentary Group. Its chief goal is making environmental protection a political priority.
Karanac said that the friendly relations between Serbia and Algeria are visible in this field as well, the two countries having last year signed a Memorandum of Understanding in matters concerning the environment, sustainable development and renewable energy sources, which led to an exchange of experiences and strengthening of bilateral relations. Because environmental issues know no boundaries, we need to address them together. The coordinator said that it was thanks to the efforts of the informal Green Parliamentary Group that the state introduced charges for the formerly free plastic bags.
MP Nada Lazic, member of the coordinating team of the informal Green Parliamentary Group, said that its focus is to inform MPs not professionally in the field about environmental issues and policies and the government that, rather than being an expense, the field offers employment and earning potentials.
MP Gordana Comic, member of the informal Green Parliamentary Group, said that the group members want to raise awareness that there are useful technologies out there that are not detrimental to the environment. "We want to build a better world for the generations to come", said Comic.
MP Dubravka Filipovski, member of the informal Green Parliamentary Group, said that the informal group has three objectives: to bring environmental issues closer to the citizens, pass and monitor environmental laws and boost funding for the area.

MP Sonja Pavlovic spoke about natural resources and their preservation and the implementation of relevant regulations.
The head of the Algerian delegation Jafar Noara Sadia said that the environment is a global issue and thanked the hosts for providing such a detailed presentation of the situation in Serbia. She spoke about the situation in Algeria, saying that there has been some progress, but cooperation is key to achieving more. Algeria has passed a strategy that includes all the segments of society in environmental issues. She emphasized her support for the informal GPG and invited it to the recycling salon in Algeria in late 2019. The rest of the delegation said that they would support the establishment of a group of this kind in the Algerian Parliament and that Serbia's support would mean a lot.
The meeting was attended by: Nada Lazic, Jasmina Karanac, Sonja Pavlovic, Dubravka Filipovski and Gordana Comic.


---
---
monday, 16 may
No announcements for selected date