National Assembly of the Republic of Serbia / Activities / Activity details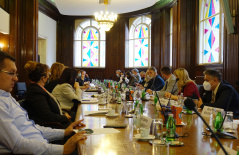 5 March 2021 Participants of the meeting
Friday, 5 March 2021
Green Parliamentary Group Meets with Standing Conference of Towns and Municipalities
On March 5, the Green Parliamentary Group had a meeting with the Committee on the Environment and Emergency Situations of the Standing Conference of Towns and Municipalities (SCTM) on the topic of waste management.
---
The meeting began with speeches by representatives of the Green Parliamentary Group Secretariat Djordje Stancic, SCTM Secretary General, and Predrag Rojevic, President of the Municipality of Vrbas and Chairman of the SCTM Committee on the Environment and Emergency Situations.
The introductory speeches of Green Parliamentary Group Coordinator Dubravka Filipovski and the representatives of the SCTM, were followed by a lecture by Kristina Cvejanov on the topic "Waste Management in Serbia". Ms. Cvejanov pointed out that the key problem of environmental protection in Serbia is the major lack of human capacities. She stated that, out of a total of 816 locations cleaned of illegal landfills in 2019, 746 were reverted to waste disposal sites, which indicates the need to change waste management in local self-governments and for more rigorous law enforcement.
Jana Pavlovic, Environmental Advisor and SCTM Committee Secretary, presented the programme and action plan of the SCTM Committee on the Environment and Emergency Situations to the members of the Green Parliamentary Group. She spoke of the Committee's strategic directions and action plan for 2021, as well as possible topics of cooperation between the Green Parliamentary Group and SCTM. The meeting ended with an open discussion on the topics covered in previous sessions.
The MPs who attended the meeting: Bojan Torbica, Branimir Jovanovic, Bratimir Vasiljevic, Vesna Ivkovic, Vesna Krisanov, Vesna Nedovic, Vladimir Grahovac, Gojko Palalic, Dubravka Filipovski, Zarko Bogatinovic, Jasmina Karanac, Prof. Dr Ljubisa Stojmirovic, Milija Miletic, Dr Muamer Bacevac, Natasa Jovanovic, Nevena Veinovic, Nenad Krstic, Samira Cosovic, Sanja Jefic Brankovic and Tomislav Jankovic.
---
---
sunday, 26 june
No announcements for selected date