National Assembly of the Republic of Serbia / Activities / Activity details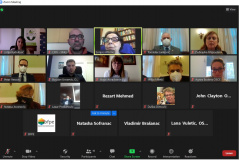 17 December 2020 The Green Parliamentary Group initiates regional cooperation
Thursday, 17 December 2020
Green Parliamentary Group Initiates Regional Cooperation
On Thursday, 17 December, the National Assembly's informal Green Parliamentary Group (ZPG) initiated a regional meeting with colleagues from the parliaments of North Macedonia, Montenegro and Bosnia and Herzegovina. The meeting was held on a digital platform, with the members of ZPG jointly participating from hall 3 of the National Assembly House.
---
The topic of the meeting was establishing a regional network of green MPs and launching a more intensive regional cooperation. The meeting was organized with the support of the ZPG's informal secretariat and the OSCE Mission to Serbia.
At the opening, the participants were greeted by Mrs. Sonja Licht, quoting the United Nations Secretary-General Antonio Guterres who announced the other day that "we are entering a state of climate emergency on our planet." She was followed by MP and coordinator of the Green Parliamentary Group Dubravka Filipovski who stated that there is new energy and great interest in the National Assembly to work on environmental issues. "It is important that we come together with the desire to create cooperation mechanisms that would help us implement the Green Agenda for the Western Balkans."
Duska Dimovic of the WWF Adria-Serbia (world organization for nature conservation) gave a lecture on climate change. After the lecture, the participants agreed to form a regional coordination body by the end of December, to prepare a memorandum of cooperation and to start creating an action plan for next year. It was also agreed to establish contacts with the parliaments of the countries in the region that are in the EU.
The regional meeting was attended by the following members of the National Assembly of the Republic of Serbia: Dubravka Filipovski, Zarko Bogatinovic, Milija Miletic, Tomislav Jankovic, Natasa Jovanovic, Petar Vesovic, Danijela Veljovic, Bratimir Vasiljevic, Samira Cosovic, Milan Urosevic and Boris Bursac.
---
---
monday, 25 september
9.00 - the National Assembly Speaker meets with the Chairman of the Shanghai Committee of the Chinese People's Political Consultative Conference (National Assembly House, 13 Nikola Pasic Square, hall 1)

11.00 - the members of the European Integration Committee meet with the German Ambassador to Serbia (National Assembly House, 13 Nikola Pasic Square, hall 2)