National Assembly of the Republic of Serbia / Activities / Activity details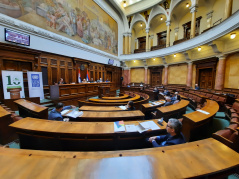 10 March 2021 Participants of the meeting
Wednesday, 10 March 2021
Green Parliamentary Group Holds Meeting on Climate Change Bill
On 10 March 2021, at 2:30 pm, the informal Green Parliamentary Group held a working meeting on the Bill on Climate Change. The meeting was held in the Small Hall of the National Assembly House.
---
Ms. Danijela Bozanic, the author of the analysis of the legislative framework in the field of climate change, presented her work to the deputies. Ms. Bozanic mainly focused on the changes in the Bill on Climate Change in relation to the earlier working versions. The meeting ended with a discussion on the proposed amendments that the Green Parliamentary Group plans to submit to the abovementioned Bill currently in parliamentary procedure.
The working meeting was attended by the following MPs: Arpad Fremond, Bosiljka Srdic, Bratimir Vasiljevic, Vesna Ivkovic, Vesna Krisanov, Gojko Palalic, Zarko Bogatinovic, Jasmina Karanac, Ljubinko Rakonjac, Ljubisa Stojmirovic, Milan Urosevic, Milija Miletic, Milorad Mijatovic, Nevenka Kostadinova, Petar Vesovic and Tomislav Jankovic.
---
---