National Assembly of the Republic of Serbia / Activities / Activity details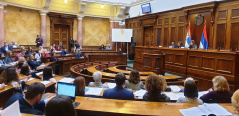 29 November 2019 Participants of the public debate on the proposal of the Strategy for Prevention and Protection of Children from Violence
Friday, 29 November 2019
Gojkovic Opens Public Debate on Proposal of Strategy for Prevention and Protection of Children from Violence
The Speaker of the National Assembly of the Republic of Serbia Maja Gojkovic opened the public debate on the proposal of the Strategy for Prevention and Protection of Children from Violence for the period 2020-2023 with two-year action plan at the National Assembly House, stressing that violence against children is very much alive in Serbia which is why it is vital to build a strong, speedy and adequate response system.
---
"Protecting children from violence and especially preventing their becoming victims of violence is extremely important because many studies have shown that childhood experiences have a far-reaching effect" Gojkovic stressed, adding that violence both causes suffering and seriously affects the development, well-being even the life of a child.
The Serbian Assembly Speaker said that prevention and suppression of violence against children and protection of children from violence are some of Serbia's national policy priorities, adding that the system of protection can and has to be improved, which is possible through a close cooperation of state authorities from the national to local level, education institutions, healthcare system, social care and civil society.
Gojkovic stressed that the adoption of the strategy and action plan is important for the improvement of child protection and to make sure children grow up in a safe environment.
Minister of Labour, Employment, Veteran and Social Affairs Zoran Djordjevic said that the Strategy was drafted in line with the UN Convention on the Rights of the Child following the rights contained in it as the leading principle. Building a policy and measures for the prevention and suppression of violence against children is one of Serbia's priority public policies.
"These measures and activities concern all children, without discrimination and regardless of their familial status, ethnicity or other social categories. The strategy will be implemented by all the state authorities, at all levels of government, in cooperation with NGOs and the civil sector, as well as families and individuals. That is why it is vital that all the participants have one and the same understanding and stance on it – total rejection of violence against children", Minister Djordjevic emphasized.
Minister Djordjevic said that the Ministry of Labour, Employment, Veteran and Social Affairs has in the previous couple of years also worked on a draft law on child rights which should find its way into Assembly procedure as soon as possible.
The participants of the public debate were presented the proposal of the Strategy and action plan which was followed by a discussion.


---
---
tuesday, 16 august
12.00 - press conference of MP Srdjan Milivojevic (National Assembly House, 13 Nikola Pasic Square, Central Hall)