National Assembly of the Republic of Serbia / Activities / Activity details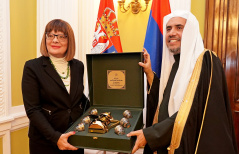 7 February 2020 Speaker Gojkovic and the Secretary General of the World Muslim League Muhammad al-Issa
Friday, 7 February 2020
Gojkovic Meets with World Muslim League Secretary General
The Speaker of the National Assembly of the Republic of Serbia Maja Gojkovic received the Secretary General of the World Muslim League - Rabitat al-Alam al-Islami, Muhammad al-Issa, currently visiting Serbia.
---
Gojkovic and al-Issa spoke about the development of cooperation and the importance of deepening relations in future, agreeing on the importance of maintaining tolerance, interreligious dialogue and promoting dialogue with other cultures.
Gojkovic said that Serbia has a rich history of cohabitation and contact with different cultures and religions, stressing that the members of the Islamic community play a very important role in society and that the legislation concerning the right of confession has the highest standards in the area.
Gojkovic added that in the course of the 141st Assembly of the Inter-Parliamentary Union in Belgrade in October 2019, the Serbian Assembly made contact with parliaments of Islamic states, stressing that Serbia wishes to build good relations with the World Muslim League and the Organization of Islamic Cooperation.
Al-Issa said he was very pleased to be visiting Serbia, a friendly country that offers equal rights to all of its citizens. At-Issa said that the Serbian Constitution protects the religious rights of minorities and offers support to the members of all the religions on the territory of Serbia, making it an inspirational and heartening example of openness.
To that end, Gojkovic and al-Issa emphasized the importance of the Rabitat's conference, planned for autumn in Belgrade, dedicated to the ties between Orthodox Christianity and Islam, as well as other religions. Al-Issa said that the conference will have a historic significance and be an opportunity for Serbia to verify its status as a country open to all religions and people.


---
---
monday, 15 august
11.00 - press conference of MP MA Ivan Kostic (National Assembly House, 13 Nikola Pasic Square, Central Hall)