National Assembly of the Republic of Serbia / Activities / Activity details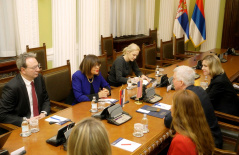 11 March 2019 National Assembly Speaker Maja Gojkovic and US Ambassador to Serbia Kyle Scott
Monday, 11 March 2019
Gojkovic Meets with US Ambassador to Serbia
The Speaker of the National Assembly of the Republic of Serbia Maja Gojkovic met today with US Ambassador to Serbia Kyle Scott to discuss improving parliamentary cooperation and relations between Serbia and the United States.
---
Gojkovic spoke about the importance of advancing bilateral relations, mentioning the parliament's excellent cooperation with the US congressmen, senators and dignitaries, and stressing how important it would be to further it more.
Gojkovic and the US Ambassador also spoke about the importance of joint events for the improvement of cooperation, such as the exhibition celebrating the centenary of the time the Serbian flag first flew over the White House and the exhibition on commemorating Operation Halyard, the largest WWII Allied rescue operation behind enemy lines, and saying they were ready to continue in the same vein.
The National Assembly Speaker informed the US Ambassador on the ongoing session of the Serbian Parliament and the procedures for submitting amendments to the bills being discussed, amending the agenda and passing laws by urgent procedure.
Gojkovic and Ambassador Scott also spoke about continuing the cooperation between the National Assembly and the United States Agency for International Development (USAID) on strengthening the Parliament's capacities in a number of spheres such as its supervisory role, gender equality, public outreach.


---
---
monday, 16 may
No announcements for selected date