National Assembly of the Republic of Serbia / Activities / Activity details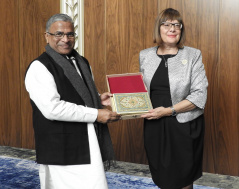 23 September 2019 National Assembly Speaker Maja Gojkovic and the Deputy Chairman of Indian Council of Harivansh Narayan Singh
Monday, 23 September 2019
Gojkovic Meets with Deputy Chairman of Indian Council of States
The Speaker of the National Assembly of the Republic of Serbia Maja Gojkovic, taking part in the 4th meeting of Speakers of Eurasian Countries' Parliaments in Kazakhstan, with the Deputy Chairman of Indian Council of States (upper house of the Indian Parliament) Harivansh Narayan Singh.
---
Gojkovic and Harivansh agreed that the two countries' decades-long friendship, cemented in the cooperation under the auspices of the Non-Aligned Movement, is the source of their deep mutual respect and support on issues of importance.
Gojkovic and Harivansh opined that the visit of Indian Vice-President and Chairman of the Council of States Venkaiah Naidu to Serbia in September 2018 and then Prime Minister now President of Serbia Aleksandar Vucic to India in 2017 gave a special impulse to the two countries' friendly relations as they sounded the beginning of a new era in their relationship and the building of even stronger ties.
Harivansh praised the importance of honouring the seventy years of good bilateral relations between Serbia and India, stressing that India stands firm in its principled support of Serbia's territorial integrity and sovereignty.
Gojkovic thanked India for its principled and firm stance on Kosovo-Metohija i.e. Serbia's territorial integrity and sovereignty, saying that Serbia is committed to dialogue despite Pristina's many provocations, unilateral and radical acts.
Gojkovic and Harivansh said that the two countries are ready to continue developing economic relations, strengthen trade and develop cooperation in the fields of agriculture, food industry, car industry, production of tractors, IT industry, healthcare, defence industry and culture.
Gojkovic said she stands ready to strengthen parliamentary relations, especially at the level of committees and parliamentary friendship groups, emphasizing the importance of cooperation at the multilateral parliamentary level. Gojkovic also thanked India for the announced participation of a high-tier delegation at the 141st IPU Assembly in Belgrade, 13 – 17 October 2019.


---
Video (1)
Monday, 23 September 2019 | susret predsednice Narodne skupštine Maje Gojković sa potpredsednikom Saveta država Republike Indije Narajanom Harivanšom 23.09.2019.
---
---
thursday, 18 august
No announcements for selected date