National Assembly of the Republic of Serbia / Activities / Activity details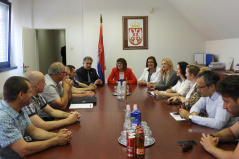 3 July 2019 Gojkovic continues the official visit to Slovenia
Wednesday, 3 July 2019
Gojkovic Continues Visit to Slovenia
The Speaker of the National Assembly of the Republic of Serbia Maja Gojkovic, currently in visit to Slovenia, and the Speaker of the Slovenian National Assembly Dejan Zidan at whose invitation she is visiting the country, visited a number of companies in the region of Prekmurje, successful examples of the use of EU funds.
---
Gojkovic and Zidan talked about possibilities for business cooperation, development of start-ups and use of EU funds in agriculture.
Gojkovic praised the exceptionally good parliamentary cooperation based on the Memorandum of Understanding saying that Serbia is interested in learning more about Slovenia's Euro-integration experience. Gojkovic advocated furthering economic cooperation between Serbia and Slovenia, praising the rising number of Slovenian investments in Serbia and the growing presence of Serbian companies in Slovenia.
Zidan said that the excellent cooperation between the states should be followed by new agricultural and business cooperation efforts. He said that the trade between the states has increased by 14%, as has both the Slovenian export into Serbia and Serbian into Slovenia - by 25%.
Gojkovic had previously met with representatives of the Serb community in Slovenia and praised the recent establishment of the Alliance of Serbs of Slovenia as an umbrella organization to coordinate the work of all the Serbian associations, which she said would help better preserve the Serbian identity, culture and language.
Gojkovic said that Serbia greatly appreciates the cooperation with the Serbs in the region, as evidenced by the meeting of the representatives of Serbs in the region with Serbian President Aleksandar Vucic.
The Serbian parliamentary delegation also comprises the head of the PFG with Slovenia Milija Miletic and PFG member Snezana Bogosavljevic Boskovic.


---
---
thursday, 30 june
10.00 - the National Assembly Speaker delivers keynote address at the CSR Serbia 2022 conference (National Assembly House, 13 Nikola Pasic Square, Small Hall)

11.00 - the National Assembly Speaker meets with the EU Special Representative for the Belgrade-Pristina Dialogue (National Assembly House, 13 Nikola Pasic Square, hall 1)

15.00 - sitting of the Foreign Affairs Committee (National Assembly House, 13 Nikola Pasic Square, hall 2)

20.00 - the National Assembly Speaker speaks at the closing ceremony of the international competition Mathematical Grammar School Cup (National Assembly House, 13 Nikola Pasic Square, Small Hall)