National Assembly of the Republic of Serbia / Activities / Activity details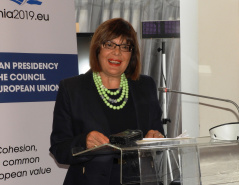 7 March 2019 National Assembly Speaker Maja Gojkovic at the seminar "For a Cohesive Europe: Gender equality and Women's Rights"
Thursday, 7 March 2019
Gojkovic: Gender Equality Is Not Concession Made to Women
The Speaker of the National Assembly of the Republic of Serbia Maja Gojkovic addressed the seminar "For a Cohesive Europe: Gender equality and Women's Rights", organized under the auspices of Romania's Presidency of the Council of the European Union. On the occasion, she said that gender equality is not a concession made to women, it is the essential for the development of society and community as a whole.
---
"Without our potential, knowledge and creativity, there can be no better future for Serbia", said Gojkovic, stressing that Serbia, as many other parts of Europe and indeed the world, still harbours pockets of gender discrimination and resistance to including women in all social, economic and political spheres.
Gojkovic said that gender equality and empowerment of women and girls is on the UN 2030 Agenda for Sustainable Development as well as a vital issue for the EU, stressing that Serbia and the National Assembly are investing considerable efforts to tackle gender-related issues, not just as a country striving for full EU membership, but as a society aware that without full equality there can be no social or economic progress in the future.
The Serbian Assembly Speaker said that the challenges women face in Serbia are similar to those they come up against in the European Union and beyond which is why it is important to work on suppressing discrimination on the labour market and creating the conditions needed for the economic independence of women, reducing the pay gap, combating violence against women and promoting decision-making equality between women and men.
Gojkovic said that Serbia's biggest achievement recently had been increasing women representation - the Parliament now has 93 women MPs (37.6%) and many women hold important posts, however these numbers are still underwhelming at the local level and in big public systems.
Gojkovic said it is also important to outline the problems women still face on the labour market and in the business sector, the numbers of employed women lag behind those for men, women come up against numerous obstacles in the employment process and prejudice when they decide to launch their own business, which all goes to show that there is still a lot to be done.
The Serbian Assembly Speaker said that, besides mothers of small children, women over 45 who had lost their jobs are in an especially difficult position because their options for new employment are limited, and in the private sector, on average, men earn more than women.
"The fact that women rarely own property such as apartments, office space, land - significant economic capital, tells us that we have not yet won full economic equality", said the Serbian Assembly Speaker.
Gojkovic also said it is important to continue to combat violence against women, sexism and misogyny, which are unfortunately, common social occurrences.
"The results achieved show that fighting for women's rights, better representation and visibility, economic independence and a society that finds violence against women unacceptable, is never futile", said Gojkovic, stating that adopting a new gender equality law this year, based on the best practice examples of other European states, would be a step in the right direction.


---
---
monday, 23 may
No announcements for selected date