National Assembly of the Republic of Serbia / Activities / Activity details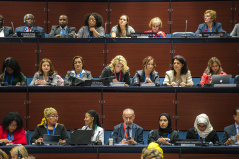 13 October 2019 The participants of the Forum of Women Parliamentarians at the 141st IPU Assembly
Sunday, 13 October 2019
Forum of Women Parliamentarians at 141st IPU Assembly
The Forum of Women Parliamentarians had a meeting under the auspices of the 141st Assembly of the Inter-Parliamentary Union (IPU) in Belgrade, 13 – 17 October, chaired by National Assembly Deputy Speaker and IPU standing delegation member Gordana Comic and featuring a speech by standing delegation member Sandra Bozic.
---
In her address, Comic said that parliamentarians around the world should set goals for the future worthy of the women who had for generations fought for empowerment and visibility in politics. Following the introductory part the 200 plus participants split into two working groups.
On behalf of the National Assembly of the Republic of Serbia, MP Sandra Bozic emphasized the importance of the Forum's themes in light of the parliament's growing role in the creation of legislation concerning gender equality and the protection of women. Bozic said that the National Assembly has ensured a significant representation of women in its midst, a staggering 37.35%, and the post of National Assembly Speaker is also occupied by a woman.
Bozic said that Serbia had set up a legislative framework to safeguard against discrimination through a number of laws, the most important among them the Anti-Discrimination Law and the Gender Equality Law, and had also passed the Law on Prevention of Domestic Violence.
"In the fight against discrimination against women it is important to ensure the economic empowerment of women and their effective participation in decision-making. That is why we are committed to the realization of the millennium development goals concerning the education of women and girls and the efforts to boost the numbers of women in leading positions in the executive power", Bozic concluded.


---
Photo gallery
---
---
sunday, 29 january
No announcements for selected date