National Assembly of the Republic of Serbia / Activities / Activity details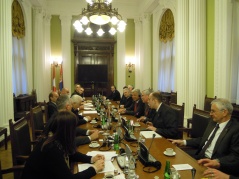 9 April 2012 Foreign Affairs Committee members speak with Swiss parliamentary delegation
Monday, 9 April 2012
Foreign Affairs Committee Members Speak to Swiss Parliamentary Delegation
A delegation of the Foreign Affairs Committee, headed by its Chairman Prof. Dr Dragoljub Micunovic, met today at the National Assembly House with a Swiss parliamentary delegation headed by the President of the National Council Hansjörg Walter.
---
The President of the Swiss National Council conveyed his country's interest in furthering political relations with Serbia and improving all types of cooperation between the two countries, economic cooperation in particular.
He deemed that the reform underway in Serbia in its approach to the EU contributes to its political and economic stability and expressed his belief that Serbia would take its rightful place and role in Europe.
The members of the Swiss parliamentary delegation inquired about potential areas for improvement of the cooperation between the two countries and whether safety of ownership was guaranteed. They were also interested in the organisation and structure of the Parliament, as well as the achieved level of regional cooperation.
Committee Chairman Dragoljub Micunovic welcomed the high-level parliamentary delegation and thanked them for the humanitarian relief Switzerland extended to Serbia. He stressed that economic cooperation between the two countries is insufficiently developed, export in particular, and pointed out that Serbia has two key potentials - agriculture and energy production, also listing the machine and electronics industry as possible areas of cooperation.
Micunovic stressed that expansion of exchange would help boost the investment of Swiss companies in Serbia, which Serbia encourages by offering significant advantages.
Foreign Affairs Committee members Natasa Vuckovic and Milos Aligrudic took part in the meeting.

---
---
monday, 3 october
11.00 - the Chairman of the Foreign Affairs Committee meets with the Cypriot Ambassador to Serbia (National Assembly House, 13 Nikola Pasic Square, hall 2)

12.00 - sitting of the Culture and Information Committee (National Assembly House, 13 Nikola Pasic Square, hall 4)

Following the sitting of the Culture and Information Committee - press conference of MP Sinisa Kovacevic (National Assembly House, 13 Nikola Pasic Square, Central Hall)

12.30 - press conference of MP Nebojsa Bakarec (National Assembly House, 13 Nikola Pasic Square, Central Hall)

13.00 - the National Assembly Speaker meets with the Canadian Ambassador to Serbia (National Assembly House, 13 Nikola Pasic Square, hall 1)