National Assembly of the Republic of Serbia / Activities / Activity details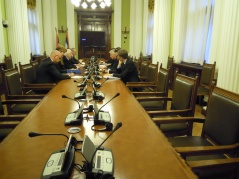 12 March 2012 Foreign Affairs Committee Chairman receives Council of Europe Parliamentary Assembly Secretary General
Monday, 12 March 2012
Foreign Affairs Committee Chairman Receives PACE Secretary General
Foreign Affairs Committee Chairman and Head of the Standing delegation of the National Assembly of the Republic of Serbia to the Parliamentary Assembly of the Council of Europe Prof. Dr Dragoljub Micunovic received Council of Europe PA Secretary General Thorbjørn Jagland today at the National Assembly House.
---
Jagland congratulated Serbia on receiving European Union candidate status, saying he expected that the requirements necessary to set the date for launching negotiations on Serbia's EU accession would be met by the end of the year. This confirms Serbia's dedication to the European idea and firm commitment to fully join the family of European nations.
However, it is presumed that countries initiating negotiations with the EU have beforehand met the high standards of the Council of Europe, primarily as regards the rule of law, compulsory for all EU members. The Monitoring Committee's last year's Report on Serbia states that the judiciary reform has not been completed and that the fight against corruption and organised crime needs to further development.
The Secretary General thanked Serbia for its support of Council of Europe reforms.
Foreign Affairs Committee Chairman Dragoljub Micunovic said that the Monitoring Committee's Report on Serbia was objective and strict, and that Serbia expected the monitoring to be rescinded, which it was not. We are aware that the judiciary reform is not complete even though it has progressed from what the situation in the sphere was before and that the area needs a lot more work primarily to eliminate the irregularities brought to attention by the PACE Monitoring Committee. He stressed that Serbia has begun a thorough judiciary reform which has resulted in some hasty solutions and inconsistencies which have to be overcome.
Thanks to the great efforts invested by Serbia and neighbouring countries, the Balkans are becoming more stable, opined Foreign Affairs Committee Chairman Dragoljub Micunovic.

---
---
wednesday, 5 october
10.00 - the Chairman of the Foreign Affairs Committee meets with the Belgian Ambassador to Serbia (National Assembly House, 13 Nikola Pasic Square, hall 2)

11.00 - the Chairman of the Foreign Affairs Committee meets with the US Ambassador to Serbia (National Assembly House, 13 Nikola Pasic Square, hall 2)

11.00 - the National Assembly Speaker meets with the Mexican Ambassador to Serbia (National Assembly House, 13 Nikola Pasic Square, hall 1)

12.00 - press conference of MPs Zoran Lutovac and Dragana Rakic (National Assembly House, 13 Nikola Pasic Square, Central Hall)

12.30 - press conference of the SERBIAN MOVEMENT DVERI – PATRIOTIC BLOC Parliamentary Group (National Assembly House, 13 Nikola Pasic Square, Central Hall)

12.45 - the National Assembly Speaker meets with the Iranian Ambassador to Serbia (National Assembly House, 13 Nikola Pasic Square, hall 1)