National Assembly of the Republic of Serbia / Activities / Activity details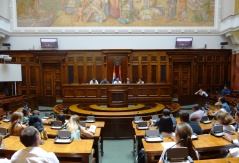 28 August 2015 The Chairman and members of the European Integration Committee in meeting with the second generation of attendees of the European Integration School from the north of Kosovo-Metohija
Friday, 28 August 2015
European Integration Committee Members Talk to European Integration School Attendees from North Kosovo-Metohija
European Integration Committee Chairman Aleksandar Senic and Committee members Prof. Dr Ljubisa Stojmirovic, Branko Ruzic and Dr Vladimir Orlic, met today, 28 August, at the National Assembly House, with the second generation of attendees of the European Integration School situated in the north of Kosovo-Metohija.
---
The attendees of the School, organised among others by the European Movement in Serbia, are civil servants working in public institutions and local self-government institutions, managers of civil society organisations, media and business sector representatives and students from the north of Kosovo-Metohija.
Opening the meeting, Aleksandar Senic informed the guests about the scope of duties of the Committee he chairs and the process of Serbia's European integration, with a special focus on the role the relevant committees and the European Integration Committee play in the talks with the European Union and the reviewing of negotiating positions, pursuant to the National Assembly's Resolution. He emphasised the significant contribution of the National Convention on the European Union and civil society organisations to the debates.
Dr Vladimir Orlic, as the Chair of the Delegation of the National Assembly of the Republic of Serbia in the European Union-Serbia Stabilisation and Association Parliamentary Committee, spoke of the joint Committee's scope of activities. Orlic said that the process of working together with the MEPs is an example of constant negotiations which includes an exchange of information, opinions and arguments leading to a consensus embodied in a joint declaration at the end of the meeting.
In the ensuing discussion the attendees of the European Integration School had many questions for the MPs present, among other things about the establishment of the Community of Serb municipalities and the implementation of the Brussels Agreement, concluding that the latest developments and the Summit in Vienna point to a speedy opening of the first negotiation chapters with the European Union.
---
---
friday, 2 december
8.15 - the National Assembly Speaker meets with the EU Commissioner for Neighbourhood and Enlargement (National Assembly House, 13 Nikola Pasic Square, hall 1)

11.00 - sitting of the Health and Family Committee (National Assembly House, 13 Nikola Pasic Square, hall 3)

11.00 - sitting of the Committee on Agriculture, Forestry and Water Management (National Assembly House, 13 Nikola Pasic Square, hall 4)

12.00 - sitting of the Committee on the Economy, Regional Development, Trade, Tourism and Energy (National Assembly House, 13 Nikola Pasic Square, hall 2)

13.00 - press conference of MP Prof. Dr Janko Veselinovic (National Assembly House, 13 Nikola Pasic Square, Central Hall)

13.00 - the National Assembly Speaker meets with the Russian Ambassador to Serbia (National Assembly House, 13 Nikola Pasic Square, hall 1)

16.00 - sitting of the Committee on Constitutional and Legislative Issues (National Assembly House, 13 Nikola Pasic Square, hall 3)

16.00 - sitting of the European Integration Committee (National Assembly House, 13 Nikola Pasic Square, hall 2)