National Assembly of the Republic of Serbia / Activities / Activity details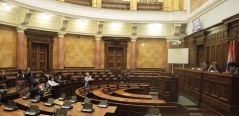 29 January 2016 The members of the European Integration Committee in meeting with the EU training group from Ukraine
Friday, 29 January 2016
European Integration Committee Members Meet with EU Training Group from Ukraine
The members of the European Integration Committee met with an EU training group from Ukraine, on 29 January at the National Assembly, to exchange experiences.
---
National Assembly Deputy Speaker Gordana Comic greeted the guests and wished them luck on the path to the comprehensive changes necessary for Ukraine's EU accession. Comic stressed that the European integration process is very demanding and requires a comprehensive change of awareness in the society as a whole, adding that Ukraine is now in the same place Serbia was in 2008. Comic spoke about the beginnings of Serbia's integration process and informed the guests about the chief measures employed so far.

Deputy Speaker Gordana Comic and Committee member Vera Paunovic emphasised the role of the National Assembly and the European Integration Committee, highlighting the importance of the two resolutions passed in 2004 and 2013. They stressed that communication with the citizens and public support are the most important aspects of the process, as these are essential elements of reform.

The meeting went on to touch on the process of legislative harmonisation, as well as the key points of the recently opened EU negotiation chapters.


---
---
monday, 16 may
No announcements for selected date