National Assembly of the Republic of Serbia / Activities / Activity details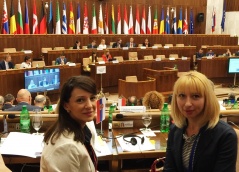 11 July 2916 The delegation of the European Integration Committee at the meeting of COSAC chairpersons
Monday, 11 July 2016
European Integration Committee Delegation at COSAC Chairpersons' Meeting
The meeting of the Chairpersons of COSAC - Parliamentary Committees for Union Affairs of Parliaments of the European Union, 10 - 11 July, is held in Bratislava, under the auspices of the parliamentary dimension of the Slovak presidency of the EU Council.
---
The meeting is attended by representatives of the 28 European Union member states, the European Parliament and EU candidates. In addition, it also is attended, as guests, by representatives of the European Commission, European Council, Norway and Switzerland. The delegation of the European Integration Committee of the National Assembly of the Republic of Serbia comprises Committee Chairperson Marinika Tepic and Committee member Vesna Markovic.

The meeting focused on the social dimension of the European Union and cohesion politics, as well as the priorities of the Slovak presidency. The participants also ascertained the agenda for the 56th COSAC Conference to be held in November in Bratislava.

In her address, European Integration Committee Chairperson Marinika Tepic said that Serbia is strongly in favour of EU membership, it is dedicated to the reform processes and harmonisation of its legislation with the EU acquis, and contributes to the EU initiatives, policies and missions available in this stage.

She reminded the participants that EU accession and membership is the strategic commitment and chief foreign policy objective of all the countries in the region, and the constant support and encouragement of the European Commission, European Parliament, and the member states is very important: "Last week's summit in Paris reaffirmed it. Integration of this part of Europe contributes to peace and security, as well as prosperity, and the principle of solidarity is crucial in the development of the enlargement policy, with the dedication of the candidate countries to reforms in all areas", concluded Tepic, adding that she was pleased that all the member states are ready to go on with the opening of the prepared negotiation chapters.

Finally, she added that Serbia closely follows the efforts all the member states and Union institutions invest into establishing better control and management of the migrant and refugee crisis, taking over part of the responsibility, including temporary housing of a number of migrants, and stressed that though Serbia is not a member state, it will do its best to be part of the common solution.


---
---
friday, 7 october
No announcements for selected date