National Assembly of the Republic of Serbia / Activities / Activity details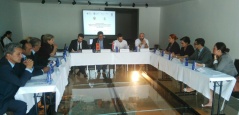 4 September 2015 European Integration Committee delegation in visit to the Montenegrin Parliamentary Committee on European Integration
Friday, 4 September 2015
European Integration Committee Delegation Visits Montenegrin Parliamentary Committee on European Integration
A delegation of the National Assembly's European Integration Committee is visiting the Montenegrin Parliamentary Committee on European Integration.
---
The two committees' bilateral meeting is a continuation of the cooperation and exchange of experiences in the EU negotiation process, following the dynamics of the negotiation process and the use of IPA funds with the aim of adjusting the national legislation to the EU acquis and conducting reform in the process of accession negotiations.
On the occasion, the two committee chairmen, Aleksandar Senic and Slaven Radunovic, exchanged information on the Serbian and Montenegrin parliaments' experiences relating to the process of reviewing the negotiating positions and the practice of checking the harmonisation of the laws with the EU acquis. In the course of the discussion the officials spoke of the need to boost the committees' supervisory role since the reforms the candidate countries pledge to in the course of the negotiation process affect all the aspects of their citizens' lives. The members of the two committees agreed to strengthen the two committees' cooperation via meetings and conferences, as well as through specific projects. They highlighted the importance of deepening cooperation and the need to clearly define the role of the parliament and positioning in the negotiation process.
The members of the two committees talked about the work of the negotiating structures, duties coming after the EU negotiation chapters are opened and coordination of the entire process by the chief negotiator and the negotiating team. They also mentioned the role of civil society organisations in the negotiation process and agreed that they greatly contribute to the process. They also concluded that the use of IPA funds should be more supervised and that there is room to establish interparliamentary cooperation within the multi-beneficiary IPA.
The Montenegrin parliamentary delegation comprised the Chairman do the Committee on European Integration Slaven Radunovic and Committee members Marija Maja Catovic, Azra Jasavic, Obrad Miso Stanisic, Koca Pavlovic and Sefkija Muric.
The delegation of the National Assembly of the Republic of Serbia comprised European Integration Committee Chairman Aleksandar Senic and Committee members Gordana Comic, Dusica Stojkovic and Ivan Bauer.
The bilateral meeting was supported by project Strengthening the Oversight Role and Transparency of the National Assembly of the Republic of Serbia, conducted by the National Assembly of the Republic of Serbia and UNDP with the support of the Swiss Agency for Development and Cooperation, and the Western Balkans Programme of the Westminster Foundation for Democracy, with the support of the Network of Parliamentary Committees on Economy, Finance and European Integration of Western Balkans.
---
---