National Assembly of the Republic of Serbia / Activities / Activity details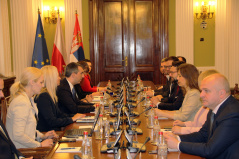 6 June 2023 The National Assembly Speaker in meeting with the Chairman of the Polish Sejm Foreign Affairs Committee
Tuesday, 6 June 2023
Dr Vladimir Orlic and Polish Sejm Foreign Affairs Committee Chairman
The Speaker of the National Assembly of the Republic of Serbia Dr Vladimir Orlic met today with the Chairman of the Foreign Affairs Committee of the Sejm of the Republic of Poland Radosław Fogiel with whom he confirmed the traditionally good and friendly relations between the two countries, as well as the readiness to continue with the two national parliaments' joint work on all levels.
---
Dr Orlic said that Serbia is committed to deepening cooperation with Poland and all of its partners, as well as to further development and achieving historic results in the economy, infrastructure and other areas, all of which requires the preservation of peace and stability. "In that respect, the extremely dangerous situation in Kosovo-Metohija is a difficult challenge, with the security of the Serbian people being threatened on a daily basis by the unilateral actions of Albin Kurti. He is the one guilty of disturbing the peace, today everyone says so openly - the KFOR commander, the NATO commander, as well as US and EU officials," said the National Assembly Speaker, informing the guest in detail about the violence of ROSU units against unarmed Serbian civilians peacefully protesting the usurpation of power in local areas where only Serbs live. "What they are asking for is completely reasonable – withdrawal of fake mayors and occupational forces from the north of Kosovo-Metohija, as well as the establishment of the Community of Serb Municipalities which they have been waiting for for ten years", said Dr Orlic.
Fogiel emphasized that Poland supports dialogue, normalisation and implementation of all previously reached agreements, and at the same time continues to provide continuous support to the Republic of Serbia and the countries of the region on their European path.
Speaking about the conflict in the east of Europe, Fogiel said that violence is unacceptable in international relations and that in order to preserve peace, international law must be respected, which entails the inviolability of borders and respect for the sovereignty and territorial integrity of each state. Dr Orlic confirmed that the Republic of Serbia applies the aforementioned principles consistently - both in relation to itself and to all countries in the world. "We make no exceptions on this issue which is why we fully expect that, following the example of our country, international law, the UN Charter and valid UN Security Council resolutions, Resolution 1244 in particular, will be respected," said the National Assembly Speaker.
In conclusion, Fogiel stressed for Poland, the respect for the UN Charter and Resolution 1244 is both necessary and indisputable.
---
Photo gallery
---
---
monday, 2 october
10.40 - the National Assembly Speaker's address at the event "Joy of Europe" (National Assembly House, 13 Nikola Pasic Square, Central Hall)

12.00 - continuation of the sitting of the Committee on the Economy, Regional Development, Trade, Tourism and Energy (National Assembly House, 13 Nikola Pasic Square, hall 2)

14.15 - the National Assembly Speaker meets with a delegation of rapporteurs of the Parliamentary Assembly of the Council of Europe Monitoring Committee (National Assembly House, 13 Nikola Pasic Square, hall 1)

16.00 - the heads of the parliamentary groups meet with the delegation of rapporteurs of the Parliamentary Assembly of the Council of Europe Monitoring Committee (National Assembly Building, 14 Kralja Milana Street, Blue Salon)

17.45 - the members of the Committee on Constitutional and Legislative Issues meet with the delegation of rapporteurs of the Parliamentary Assembly of the Council of Europe Monitoring Committee (National Assembly Building, 14 Kralja Milana Street, Blue Salon)