National Assembly of the Republic of Serbia / Activities / Activity details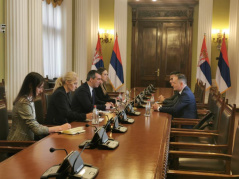 24 March 2023 The National Assembly Speaker in meeting with the newly-appointed Hungarian Ambassador to Serbia
Friday, 24 March 2023
Dr Vladimir Orlic With Newly Appointed Hungarian Ambassador
The Speaker of the National Assembly of the Republic of Serbia Dr Vladimir Orlic met today with the newly-appointed Hungarian Ambassador to Serbia Jozsef Zoltan Magyar to discuss strengthening bilateral relations between the two countries and improving overall cooperation.
---
"We are proud of the good and strong relations between Serbia and Hungary, which, as the two leaders, Prime Minister Orban and President Vucic, regularly point out, are the best in the history of two countries and two peoples," said Dr Orlic expressing Serbian National Assembly's readiness to contribute to the further improvement of overall relations with Hungary, both through the intensification of contacts between parliamentary friendship groups and working bodies and through his upcoming meeting with the Hungarian Parliament Speaker and visit to Budapest.
The officials agreed that the excellent relations and close cooperation between the two countries are confirmed by numerous joint projects, such as the modernisation of the railway, as well as Serbia and Hungary's joint struggle for energy security. They confirmed their willingness to continue improving cooperation at all levels, expressing belief that the two countries would continue to achieve record results in all areas of mutual interest in the coming period, primarily the economy.
The Hungarian Ambassador emphasised the unquestionable support for Serbia on its European path, stressing that Serbia joining the EU as soon as possible would benefit, both Serbia and the whole of Europe. "The border between us should not be an obstacle for furthering ties and cooperation with which we contribute to a better standard of living for our citizens," said the Ambassador. He praised Serbian President Aleksandar Vucic's open and responsible attitude to the dialogue between Belgrade and Pristina, as well as his efforts aimed at preserving peace for all. He said that it is extremely important to honour previously signed agreements, as well as to preserve stability in the region, in which the European Union must remain consistent.
Dr Orlic thanked Hungary for its support and understanding of Serbia's position. "The fact that it was clearly heard that Hungary does not support the aspirations of so-called "Kosovo" for membership in European organisations was very important for us, and everyone in Serbia highly appreciates this. In the meantime, Pristina openly sabotages the dialogue, endangers the peace and completely violates the basic human rights of the Serbs in Kosovo-Metohija - it is unimaginable that this could happen anywhere in Europe today. On top of all that, it is asking for a reward for this kind of behaviour, which makes it laugh in the face of the European Union itself and informs it that it will not do what it had committed itself to in from of it. It is important to know that, still, not everyone agrees with Pristina's brazen behaviour," said Dr Orlic.
---
Photo gallery
---
---
sunday, 4 june
No announcements for selected date