National Assembly of the Republic of Serbia / Activities / Activity details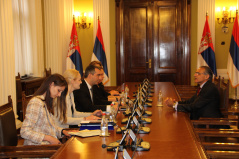 24 May 2023 The National Assembly Speaker in meeting with the Cypriot Ambassador
Wednesday, 24 May 2023
Dr Vladimir Orlic Receives Cypriot Ambassador in Farewell Visit
The Speaker of the National Assembly of the Republic of Serbia Dr Vladimir Orlic received the Ambassador of the Republic of Cyprus Demetrios Theophylactou in farewell visit, thanking him for his personal contribution to the further advancement of bilateral relations and strengthening of the traditional friendship between the two countries and the two peoples.
---
The officials praised the dynamic political and parliamentary dialogue, as well as the firm partnership between the two people, evidenced in the constant advancement of cooperation in all areas of common interest. They reaffirmed that Serbia and Cyprus cultivate a strong trust founded above all in the reciprocal support in the vital national interests of preservation of sovereignty and territorial integrity.
The National Assembly Speaker conveyed gratitude to the departing Ambassador for the principled stance of the Republic of Cyprus viz. non-recognition of so-called "Kosovo", as well as for the support for our country yet again confirmed by the vote in the Council of Europe. He took the opportunity to inform the Ambassador of the difficult situation in Kosovo-Metohija and the daily threats to the security of the Serbian people. "We are faced with the dangerous moves of Albin Kurti, who now openly wishes for an armed conflict, as well as the usurpation of the municipalities in the north of Kosovo-Metohija where Serbs live and their transformation into an occupied zone by the establishment of so-called "local authorities" - with no legitimacy. Anyone who recognizes this "authority" openly supports the breakout of a big conflict. Along with all of the abovementioned, it is a fact that the Serbian people no longer accept Pristina's lies about the establishment of the Community of Serb Municipalities, ignoring and avoidance of the unquestionably established and signed obligation", said Dr Orlic, adding that it is clear to everyone that the preservation of peace and stability in the region is owed primarily to the President of the Republic Aleksandar Vucic, which the Ambassador agreed with.
Ambassador Theophylactou reaffirmed that the position of the Republic of Cyprus on Kosovo-Metohija would not change and that the two countries would continue to defend international law, their national interests and red lines.
Finally, the Ambassador expressed satisfaction for the trust given to him by the Republic of Serbia and its institutions during his mandate, saying that he is leaving our country grateful for its hospitality and carrying the most wonderful memories.
---
Photo gallery
---
---