National Assembly of the Republic of Serbia / Activities / Activity details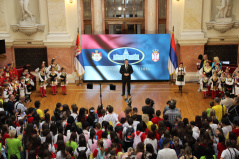 2 October 2023 The National Assembly Speaker at the opening of the 54th Joy of Europe
Monday, 2 October 2023
Dr Orlic at Opening of 54th Joy of Europe
The Speaker of the National Assembly of the Republic of Serbia Dr Vladimir Orlic spoke today at the National Assembly House at the opening of the 54th Joy of Europe, event gathering children from the region, Europe and the world.
---
Having welcomed everyone to the event, he greeted the guests, as well as the hosts - the children from Serbia. "You are the best representatives of your Serbia, which today does everything it can to making the future even better for you and your dreams come true in your country. In that future, I wish that you stand with your friends from Europe and the world, together and united, just as you are standing here today, in the Serbian Assembly," said Dr Orlic.
He said that, thanks to the efforts and commitment of the organisers, these days Serbia and Belgrade occupy a particularly important place in Europe, a place where the richness of language, culture, joy and smiles are united. "And in the spirit of the slogan "Just Beneath the Star", under which this year's meetings of young people from Europe are held, stand just beneath the star - may it illuminate you in this place with love and friendship and may each one of you, wherever you may go tomorrow, be followed by your "lucky star, one which makes your wishes and dreams come true and reminds you that you have made friends for life in Serbia and that you will always be welcomed here with open arms," said Speaker Orlic.
This year's international meeting of the children of Europe takes place in Belgrade, on 1 - 6 October, and brings together children from fourteen countries of the region and Europe: Bosnia and Herzegovina, Bulgaria, Armenia, Lithuania, Hungary, Germany, Poland, Russia, North Macedonia, Slovakia, Slovenia, Turkey, Croatia and Montenegro, as well as children from distant China.
---
Photo gallery
---
---
| M | T | W | T | F | S | S |
| --- | --- | --- | --- | --- | --- | --- |
| 27 | 28 | 29 | 30 | 1 | 2 | 3 |
| 4 | 5 | 6 | 7 | 8 | 9 | 10 |
| 11 | 12 | 13 | 14 | 15 | 16 | 17 |
| 18 | 19 | 20 | 21 | 22 | 23 | 24 |
| 25 | 26 | 27 | 28 | 29 | 30 | 31 |
sunday, 3 december
No announcements for selected date