National Assembly of the Republic of Serbia / Activities / Activity details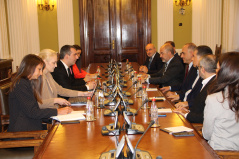 27 September 2023 The National Assembly Speaker in meeting with the delegation of the Committee on Foreign and European Affairs of the House of Representatives of the Republic of Cyprus
Wednesday, 27 September 2023
Dr Orlic Meets with Cypriot Parliamentary Delegation
The Speaker of the National Assembly of the Republic of Serbia Dr Vladimir Orlic met today with a delegation of the Committee on Foreign and European Affairs of the House of Representatives of the Republic of Cyprus, headed by Committee Chairman Harris Georgiades.
---
The officials affirmed that Serbia and Cyprus enjoy a traditional friendship, grounded in the historically confirmed closeness of the two peoples and reciprocal support on vital national interests. The National Assembly Speaker said that Serbia deeply appreciates the principled stance of the Republic of Cyprus not to recognise so-called "Kosovo", as well as the clear support for Serbia during its Council of Europe bid. "Friends stand together when times are tough. These times are not easy, our country has declared a Day of mourning for the tragic events in Kosovo-Metohija, the sole culprit for which is Albin Kurti. Everybody knows full well that Kurti, who has been carrying out terror against Serbs for months back, has precipitated the escalation which was his goal all the while. President of Serbia Aleksandar Vucic warned at the UN General Assembly that this is what Kurti's dangerous behaviour could lead to. The President of Serbia asked the representatives of The Quint countries that KFOR, finally and completely, take over security in Serbian areas," said Speaker Orlic, adding that Kurti's police, which caused the violence, will obviously not restore peace. "Serbs in Kosovo-Metohija, just like the whole of Serbia, are asking for the terror to stop, for the Community of Serb Municipalities to finally be established, committed to dialogue and for the comprehensive development of our country to continue in peace. This is our principled position, which we have followed in every situation, with an equally clear message that, despite all the pressures, Serbia would never recognise so-called "Kosovo", said Dr Orlic. "
Georgiades said that Cyprus stands firmly behind the decision not to recognise so-called "Kosovo" and will remain consistent in this matter in the future. He stressed that friendly Serbia and the brotherly Serbian people can count on the support of Cyprus on all the most important issues for our country, including strong support for its European path.
Georgiades, who is also the Head of the Parliamentary Friendship Group with the Republic of Serbia in the House of Representatives of the Republic of Cyprus, expressed satisfaction with the fact that the number of members of the National Assembly's PFG with the Republic of Cyprus is on a constant rise, thanking our MPs for their great interest in cooperation with the Cypriot Parliament.
Intensification of cooperation in the field of economy, investments, energy and all other segments of interest was also among the topics of the meeting. The officials agreed that the exceptional political relations and dynamic cooperation between the two parliaments represent the foundation for further joint work in the future.
---
Photo gallery
---
---