National Assembly of the Republic of Serbia / Activities / Activity details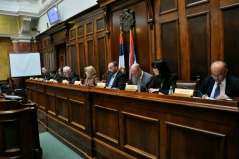 20 March 2012 National Assembly Speaker Prof. Dr Slavica Djukic Dejanovic at the gathering titled "Discussion on the Position of Legally Invisible Persons Based on the Ombudsman's Report "
Tuesday, 20 March 2012
Discussion on the Position of Legally Invisible Persons Based on the Ombudsman's Report
The Speaker of the National Assembly of the Republic of Serbia, Prof. Dr Slavica Djukic Dejanovic spoke in the introductory part of the gathering titled "Discussion on the Position of Legally Invisible Persons Based on the Ombudsman's Report ", held at the National Assembly House.
---
"I believe that the first sentence of the report stating: "The Republic of Serbia is home to an unknown number of people without legal identity", metaphorically sums up the problem faced by the citizens unable to exercise their basic human rights. Most of them are Roma, but all displaced persons are in danger of losing the battle with administration due to their living habits and circumstances and slipping into the category of legal invisibility. The procedure of establishing the fact of birth (which is the basis for acquiring personal documents) as stipulated by current legislation does not help, quite the contrary", said the National Assembly Speaker.
"The UN Convention on the Rights of the Child states that the fact of birth and acquisition of a name, as the basis of personal identity, should indisputably be recognised to every new-born child on the territory of the Republic of Serbia. Still, children whose parents are unable to acquire personal documents – even ones born in healthcare institutions, cannot be regularly entered into the birth records, and the existing regulations, as the report argues, make it difficult or impossible to exercise that right via subsequent entry procedure.
That is why the proposal to amend the Law on Extra-Judicial Procedure which regulates and simplifies the matter, is truly worthy of attention. It is more than worthy of attention, it is simply necessary as it will eliminate the situation where the law negates the reality, while the mere need to establish "the fact of birth" implicitly gives the legal norm primacy over life itself. Of course life has precedence and it is the law-maker's duty to adjust the norms to life; but life is also the situation we are in, that this initiative enters the National Assembly in the pre-election period. However, I am sure that the next NARS legislature will prioritize the proposed amendments to the Law on Extra-Judicial Procedure in its decision-making process", said Slavica Djukic Dejanovic. She stressed that she fully endorses the proposal to amend the Law on Extra-Judicial Procedure.

---
---
monday, 3 october
11.00 - the Chairman of the Foreign Affairs Committee meets with the Cypriot Ambassador to Serbia (National Assembly House, 13 Nikola Pasic Square, hall 2)

12.00 - sitting of the Culture and Information Committee (National Assembly House, 13 Nikola Pasic Square, hall 4)

Following the sitting of the Culture and Information Committee - press conference of MP Sinisa Kovacevic (National Assembly House, 13 Nikola Pasic Square, Central Hall)

12.30 - press conference of MP Nebojsa Bakarec (National Assembly House, 13 Nikola Pasic Square, Central Hall)

13.00 - the National Assembly Speaker meets with the Canadian Ambassador to Serbia (National Assembly House, 13 Nikola Pasic Square, hall 1)