National Assembly of the Republic of Serbia / Activities / Activity details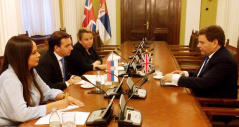 1 June 2018 Deputy Speaker Marinkovic in meeting with UK MP Andrew Bridgen
Friday, 1 June 2018
Deputy Speaker Marinkovic Meets with UK MP
National Assembly Deputy Speaker Prof. Dr Vladimir Marinkovic met with UK MP Andrew Bridgen.
---
Marinkovic said that he was very pleased to hear that Bridgen is to become the chair of the group for cooperation with Serbia at the House of Commons and informed the guest that the National Assembly's PFG with the UK boasts 45 members. Marinkovic said that the interparliamentary cooperation between the two countries is extensive as evidenced by the 11 visits since 2012. The officials agreed that the two countries' bilateral relations are excellent especially after the UK's initiative to establish a strategic political dialogue, mutual wish to improve trade and similar stances on how to address the migrant crisis and fight terrorism.
MP Bridgen was interested in Serbia's Euro-integration process saying that, despite Brexit, he supports Serbia's efforts to join the EU and adding that the path is just as important as the goal. Marinkovic said that EU accession is Serbia's strategic commitment endorsed by a parliamentary majority.
"It is Serbia's goal to complete the legislative harmonization by 2021 in full and meet the requirements for EU membership", said Marinkovic.
He added that Serbia is looking forward to the upcoming Western Balkans Summit in London, organized under the auspices of the Berlin Process which contributes to strengthening political dialogue in the region.
MP Bridgen noted that there are no UK banks operating in Serbia and that there is ample room to improve economic and business cooperation. Marinkovic agreed that the volume of trade between Serbia and the UK is small and narrow, but seeing how Serbia had exported about 157 million EUR worth of goods and imported about 140 million EUR worth in the first half of 2017 and in view of its political and economic stability, there are good prospects to develop cooperation.


---
---
monday, 28 september
No announcements for selected date