National Assembly of the Republic of Serbia / Activities / Activity details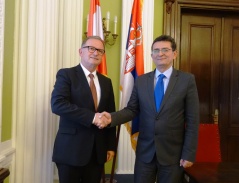 25 July 2017 National Assembly Deputy Speaker Arsic and Second President of the Austrian National Council Kopf
Tuesday, 25 July 2017
Deputy Speaker Arsic Meets with Austrian National Council Second President
National Assembly Deputy Speaker Veroljub Arsic met today at the National Assembly House with Second President of the Austrian National Council Karlheinz Kopf.
---
Arsic emphasized the excellent relations between the two countries, especially their economic and regional cooperation, as well as the importance of improving parliamentary cooperation which could play a significant role in the two countries' communication.
Speaking of Serbia's path to EU accession, which is one of the country's chief goals, Arsic thanked Austria for its support, especially in the opening of negotiation chapters.
Arsic said that Serbia truly appreciates Austria's urging for a continuation of the dialogue between Belgrade and Pristina, stressing the importance of implementing the Brussels Agreement and establishing the Community of Serb Municipalities.
"Serbia has met all the demands of the Brussels Agreement, Pristina has not. Still, we are ready to talk, however the post-election administration is not one the talks could be continued with", stressed Arsic.
Kopf said that recognizing the independence of Kosovo-Metohija could never be a condition for EU accession, first and foremost because not all of the member states have recognized the unilaterally declared independence, adding that Austria strongly supports Serbia's EU accession.
"We understand you might not be fully satisfied with the rate the accession is going, but Europe today has many internal problems that it has to tackle. I personally believe that Europe cannot be complete without the Western Balkans", said Kopf.
He stressed that Pristina has to respect and implement the Brussels Agreement, adding that President Aleksandar Vucic's call to dialogue with Pristina has pushed Serbia one step closer to resolving the issue.
---
---
| M | T | W | T | F | S | S |
| --- | --- | --- | --- | --- | --- | --- |
| 27 | 28 | 29 | 30 | 31 | 1 | 2 |
| 3 | 4 | 5 | 6 | 7 | 8 | 9 |
| 10 | 11 | 12 | 13 | 14 | 15 | 16 |
| 17 | 18 | 19 | 20 | 21 | 22 | 23 |
| 24 | 25 | 26 | 27 | 28 | 29 | 30 |
| 31 | 1 | 2 | 3 | 4 | 5 | 6 |
friday, 7 august
No announcements for selected date