National Assembly of the Republic of Serbia / Activities / Activity details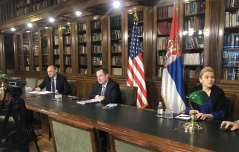 12 March 2021 National Assembly Speaker Ivica Dacic in meeting with Deputy Assistant Secretary at the US Department of State and Special Representative for the Western Balkans Matthew Palmer
Friday, 12 March 2021
Dacic and Palmer: Relations between Serbia and US Significantly Improved in Previous Years
The Speaker of the National Assembly of the Republic of Serbia Ivica Dacic had a video conference with Matthew Palmer, Deputy Assistant Secretary at the US Department of State and Special Representative for the Western Balkans.
---
National Assembly Speaker Ivica Dacic pointed out that the relations between the US and Serbia have significantly improved in previous years and that the activities on their further development should be continued. He expressed readiness to work on strengthening the ties between the National Assembly and the US Congress in his new position. He underlined the importance of intensifying political dialogue and the realisation of high-level visits as soon as conditions allow.
National Assembly Speaker Ivica Dacic informed Matthew Palmer about the National Assembly's priorities in the forthcoming period, emphasising his firm commitment to strengthening the role of the National Assembly and improving its operation during his tenure. He also informed him about the activities within the second phase of the inter-party dialogue and the meetings he had with the representatives of the European Parliament.
Matthew Palmer informed the Parliament Speaker about the meetings he had with the representatives of Pristina the day before, stress that the United States fully supports the EU Special Representative for the Belgrade-Pristina Dialogue Miroslav Lajcak and his activities. He emphasised that the United States wants to find a compromise solution and does not intend to put pressure on the parties in the dialogue.
---
Photo gallery
---
---
monday, 16 may
No announcements for selected date