National Assembly of the Republic of Serbia / Activities / Activity details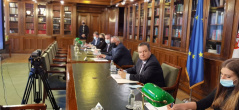 1 March 2021 Video conference of Ivica Dacic with David McAllister and representatives of the European Parliament
Monday, 1 March 2021
Dacic after Talk with McAllister: Invitation to Parties to Respond to Inter-Party Dialogue
Today, under the auspices of the inter-party dialogue, the Speaker of the National Assembly of the Republic of Serbia Ivica Dacic had a video conference with the Chair of the European Parliament's Committee on Foreign Affairs David McAllister and EP representatives.
---
After the meeting, the Assembly Speaker called on all the political parties wishing to participate in the inter-party dialogue to propose representatives and platforms for dialogue to the Assembly, as well as to appoint two permanent representatives who will participate in the dialogue from beginning to end.
After the video meeting with the representatives of the European Parliament, Dacic told reporters that this invitation also applies to the parties that do not want international mediation.
He stated that the details about the format, topics and when the first meeting of the second phase of the dialogue would officially begin will be known in the next few weeks.
Noting that the dialogue is conducted according to previously established rules, which define that the participants address the media only at the end, when agreements are reached, National Assembly Speaker Ivica Dacic said that he would talk only about technical issues today.
In addition to Dacic and McAllister, MEPs Tanja Fajon and Vladimir Bilcik, and former MEPs Eduard Kukan and Knut Fleckenstein, took part in today's online meeting.
---
Photo gallery
---
---
friday, 28 january
13.00 - meeting of the Inter-Party Dialogue Control Body (National Assembly House, 13 Nikola Pasic Square, hall 1)

17.00 - National Assembly Speaker Ivica Dacic meets with Inter-Party Dialogue co-facilitators (National Assembly House, 13 Nikola Pasic Square, hall 1)