National Assembly of the Republic of Serbia / Activities / Activity details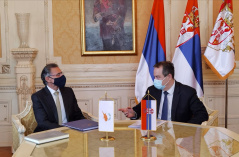 31 March 2021 National Assembly Speaker Ivica Dacic and the Ambassador of the Republic of Cyprus Demetrios Theophylactou
Wednesday, 31 March 2021
Dacic Meets with Cypriot Ambassador to Serbia: Bilateral Relations and Cooperation - Excellent and Highly Developed
Today, the Speaker of the National Assembly of the Republic of Serbia Ivica Dacic received the Ambassador of the Republic of Cyprus Demetrios Theophylactou.
---
National Assembly Speaker Ivica Dacic opined that the bilateral relations and cooperation between the two countries have always been excellent and very well-developed. He pointed out that in his previous posts he had tried to contribute to their improvement in various fields, reminding the guest that as the Prime Minister he once initiated a joint session of the two governments, which was successfully realised. He said that as the National Assembly Speaker he stood ready to contribute to the further development and strengthening of parliamentary cooperation.
Ambassador Theophylactou conveyed the greetings of the Cypriot Parliament Speaker Adamos Adamou, and confirmed his readiness to soon visit Serbia at the invitation of National Assembly Speaker Ivica Dacic. Ambassador Theophylactou agreed that the relations between the two countries are at a high level, stressing that, in addition to the highly developed political dialogue, the nations of Serbia and Cyprus also share a great friendship.
The officials agreed that, besides intensive bilateral relations, cooperation in international organisations is also very well-developed, and that the mutual support that Serbia and Cyprus provide to each other in the international arena is very important as well.
National Assembly Speaker Ivica Dacic said he was most pleased that next week he would have the pleasure to meet again with the Cypriot Minister of Foreign Affairs Nikos Christodoulides, who will be visiting Serbia.
---
Photo gallery
---
---
sunday, 29 may
No announcements for selected date