National Assembly of the Republic of Serbia / Activities / Activity details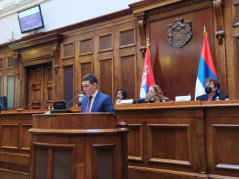 29 January 2021 Participants in the roundtable - public debate on the Draft Law on Museum Activities
Friday, 29 January 2021
Culture and Information Committee Members Support Adoption of Law on Museum Activities
The members of the Culture and Information Committee took part in a roundtable held as part of the public debate on the Draft Law on Museum Activities in the National Assembly House.
---
Committee member Milos Terzic addressed the attending on behalf of the working body, stressing that the adoption of the law on museum activities would be of exceptional importance for that field.
"I believe that by creating a suitable legal framework, the Republic of Serbia will ensure the complete protection and preservation of museum material, as well as provide suitable regulation of important issues in the field of museum-related activities," said Terzic. He pointed out that the current Law on Cultural Property, passed in 1994, is partially outdated, and the Culture and Information Committee supports the efforts of the relevant ministry and the Government of the Republic of Serbia to further regulate this important area of cultural activity.
"I hope that today's debate will bring new ideas and constructive suggestions, and that the ensuing bill will soon be submitted into parliamentary procedure," Terzic concluded.
---
---
thursday, 18 august
No announcements for selected date