National Assembly of the Republic of Serbia / Activities / Activity details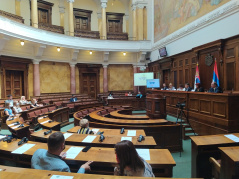 16 June 2021 Participants of the conference
Wednesday, 16 June 2021
Conference: Harm Reduction Concept - Challenges of Modern Society
The National Assembly House hosted a conference with the topic: Harm Reduction Concept - the Challenges of Modern Society, co-organised by the National Assembly and the Serbian-American Friendship Congress.
---
Predrag Lacmanovic and Vladimir Pejic, representatives of agency "Factor Plus", opened the conference and presented the results of the research on reducing the harmfulness and challenges of modern society.
MP and co-chair of the Serbian-American Friendship Congress Prof. Dr Vladimir Marinkovic took part in the conference via a video link.
Dr Jelena Jankovic, Assistant Minister of Health, Visnja Rakic, Assistant Minister of Trade, Tourism and Telecommunications, David Sweanor, Professor of Law at the University of Ottawa and Harm Reduction Expert, Lindsey Stroud, Director of the US Consumer Centre at TAXPAYERS PROTECTION ALLIANCE, professor Nebojsa Tasic, cardiologist and President of the Association of Centres for Hypertension, Prevention of Heart Attacks and Strokes, and Dr Mirjana Micovic, founder of Health Festival, non-governmental organisation that promotes healthy lifestyles, participated in the panel discussion that followed.
---
---
wednesday, 8 december
11.00 - sitting of the Committee on the Economy, Regional Development, Trade, Tourism and Energy (National Assembly House, 13 Nikola Pasic Square, hall 2)