National Assembly of the Republic of Serbia / Activities / Activity details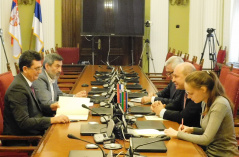 30 March 2017 National Assembly Deputy Speaker Veroljub Arsic and MP Prof. Dr Ljubisa Stojmirovic in meeting with the Azerbaijani Ambassador to Serbia H.E. Eldar Hasanov
Friday, 30 March 2018
Arsic and Hasanov on Assembly Delegation's Participation in Observation of Coming Election in Azerbaijan
National Assembly Deputy Speaker Veroljub Arsic and MP Prof. Dr Ljubisa Stojmirovic met today with the Azerbaijani Ambassador to Serbia H.E. Eldar Hasanov to discuss the Assembly delegation's participation in the observation of the coming presidential election in Azerbaijan.
---
The Ambassador briefed the MPs on the election procedure in Azerbaijan informing them that the people would be voting for eight presidential candidates. He added that many an international organization that observes elections, such as the OSCE and the Parliamentary Assembly of the Council of Europe, had shown great interest in the election, as have many parliamentarians. Arsic said he was pleased that he will be able to observe the presidential election and contribute to the legitimacy of the process, adding that the interest of international organizations is always great for parliamentary and presidential elections in countries where democracy is almost fully established.

At the beginning of the meeting, Veroljub Arsic welcomed the Ambassador underlining the good relations between the two countries across the board, bilateral, cultural, economic, as well as parliamentarian, as evidenced in the number of MPs in the PFG with Azerbaijan. "It is my pleasure to say that we have an open and sincere relationship which we should nurture and improve in all spheres", said the National Assembly Deputy Speaker. Arsic also took the opportunity to again thank the Ambassador for Azerbaijan's principled stance of non-recognition of Kosovo-Metohija especially after the recent incidents in the north of Kosovo-Metohija.

H.E. Eldar Hasanov reaffirmed the good relations between Serbia and Azerbaijan which have often been mentioned as an example of good cooperation between a Christian and a Muslim state. The Ambassador reminded the attending that Azerbaijan had supported Serbia and its interests in international organizations on eight occasions and added that eight Serbian companies are successfully doing business in Azerbaijan. He also mentioned that 485 Serbs are currently living in Azerbaijan and, speaking of cultural cooperation, that a monument to the great inventor Nikola Tesla was erected in the capital, Baku, in 2013. Hasanov said that a department for the study of Azerbaijani language and culture would be opened at the University of Belgrade in April, which will be followed a month later in Azerbaijan by the opening of a department for Serbian language and culture.

Prof. Dr Ljubisa Stojmirovic and the Ambassador spoke about investments in Crna Trava, the MPs home town, and closer economic and cultural cooperation.


---
---
wednesday, 8 july
No announcements for selected date