National Assembly of the Republic of Serbia / Activities / Activity details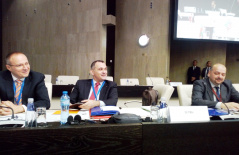 19 June 2018 The delegation of the European Integration Committee at the 59th COSAC
Wednesday, 20 June 2018
59th Plenary Meeting of the Conference of Parliamentary Committees for Union Affairs of Parliaments of the European Union (COSAC)
A delegation of the European Integration Committee of the National Assembly of the Republic of Serbia took part in the 59th plenary meeting of the Conference of Parliamentary Committees for Union Affairs of Parliaments of the European Union (COSAC), organized under the auspices of the Bulgarian Presidency of the European Union Council in Sofia, on 18-19 June 2018.
---
European Integration Committee members Dragan Sormaz and Dejan Radenkovic, as well as deputy member Vladimir Djuric took part in the plenary meeting.

The plenary was attended by delegations of the European affairs/integration committees of EU member and candidate states, special guests and representatives of European institutions.
The plenary was opened by Tsveta Karayancheva, President of the National Assembly of the Republic of Bulgaria, with a brief overview of the EU-Western Balkans Summit held in Sofia on 17 May and highlighted the importance of continued cooperation concerning migrations and efficient security of the EU. The attending were also addressed by Bulgarian President Rumen Radev who said that national parliaments provide a crucial tie between the state institutions and society. He said that one of the achievements of the Bulgarian Presidency of the EU Council was bringing the EU enlargement policy back into focus and with it the Western Balkans and how to bring it closer to the EU.
The participants attended five sessions: Achievements of the Bulgarian Presidency of the Council of the EU, Integration and connectivity of the Western Balkans – a new impetus to ЕU Enlargement Policy, European Pillar of Social Rights - building a more inclusive and fairer Europe, А strong and effective Cohesion Policy post 2020 and EU interparliamentary cooperation in the context of the debate on subsidiarity and proportionality.
In the course of the second session the Head of the National Assembly delegation Dragan Sormaz said that the EU's Enlargement Strategy of 6 February 2018 sends a clear message that there are enlargement prospects for the Western Balkans, while identifying Serbia as one of the leaders in the European integration process and 2025 as the possible year the country might join the EU is definitely a good sign. Stressing the possibility that Serbia might open two new negotiation chapters in June in Luxembourg, though it is technically prepared to open five, he asked why the progress toward the EU has been slowed down. Finally, he said that Serbia is ready to work harder and more efficiently to become member of the EU family by 2025.
The participants went on to adopt the conclusions of the 59th COSAC and were presented the 29th Bi-annual Report on Developments in European Union, Procedures and Practices Relevant to Parliamentary Scrutiny. On the margins of the plenary the delegation of the National Assembly's European Integration Committee had a bilateral meeting with the Belgian parliamentary delegation.


---
---
friday, 24 march
10.30 - sitting of the Agriculture, Forestry and Water Management Committee (National Assembly House, 13 Nikola Pasic Square, hall 3)

12.00 - sitting of the Committee on the Economy, Regional Development, Trade, Tourism and Energy (National Assembly House, 13 Nikola Pasic Square, hall 2)

12.00 - the Chairman of the Committee on Kosovo-Metohija meets with Member of the European Parliament (National Assembly House, 13 Nikola Pasic Square, library)

12.00 - the National Assembly Speaker meets with the Hungarian Ambassador to Serbia (National Assembly House, 13 Nikola Pasic Square, hall 1)

13.00 - sitting of the Committee on Constitutional and Legislative Issues (National Assembly House, 13 Nikola Pasic Square, hall 4)

13.00 - press conference of MP Milija Miletic (National Assembly House, 13 Nikola Pasic Square, Central Hall)