National Assembly of the Republic of Serbia / National Assembly / Composition / Members of Parliament / MP
MP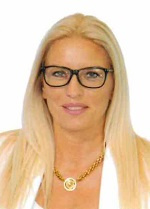 Photo gallery
MARIJA
JEVDJIC
Electoral List
IVICA DACIC – "Socialist Party of Serbia (SPS), United Serbia (JS) – Dragan Markovic Palma"
Parliamentary group
United Serbia Parliamentary Group
Political party
Date of Verification of MP's Mandate
03.08.2020.
Year of Birth
1981.
Occupation
economist
Function in the National Assembly of the Republic of Serbia
National Assembly Deputy Speaker
Committee membership
Membership in other working bodies and delegations
Stabilisation and Association Parliamentary Committee (deputy member)

Friendship group membership
Residence
Kraljevo
Parliamentary Constituency Office
Cara Lazara 8, Kraljevo
036/311-483
Snezana Usiljanin
every workday 9 am - 2 pm
---
Biography
Born on 16 January 1981 in Kraljevo.

She finished primary and secondary school in Kraljevo.

She also graduated from the Business School of Applied Studies in Belgrade and is a graduate of the Faculty of Business Studies and Law in Belgrade, UNION "Nikola Tesla" University.

Four-time best athlete of the city of Kraljevo and a scholarship holder of the Ministry of Sports, as an athlete of world importance and winner of European and world medals.

She was elected a Member of Parliament in the 2014 parliamentary election. Since 2008, councilor and head of a political group in the City Assembly of Kraljevo.

Married, mother of two.


thursday, 30 june
10.00 - the National Assembly Speaker delivers keynote address at the CSR Serbia 2022 conference (National Assembly House, 13 Nikola Pasic Square, Small Hall)

11.00 - the National Assembly Speaker meets with the EU Special Representative for the Belgrade-Pristina Dialogue (National Assembly House, 13 Nikola Pasic Square, hall 1)

15.00 - sitting of the Foreign Affairs Committee (National Assembly House, 13 Nikola Pasic Square, hall 2)

20.00 - the National Assembly Speaker speaks at the closing ceremony of the international competition Mathematical Grammar School Cup (National Assembly House, 13 Nikola Pasic Square, Small Hall)