National Assembly of the Republic of Serbia / National Assembly / Composition / Deputy Speakers / Usame Zukorlic
Usame Zukorlic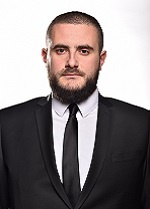 Photo gallery
USAME
ZUKORLIC
Electoral List
THE MUFTI'S LEGACY – Justice and Reconciliation Party (SPP) – Usame Zukorlic
Parliamentary group
FOR RECONCILIATION SPP – USS – DSHV Parliamentary Group
(Head)
Political Party at whose proposal the MP was elected
Justice and Reconciliation Party (SPP)
Date of Verification of MP's Mandate
01.08.2022.
Year of Birth
1992.
Occupation
theologist
Function in the National Assembly of the Republic of Serbia
National Assembly Deputy Speaker
Committee membership
Membership in other working bodies and delegations
Stabilisation and Association Parliamentary Committee (member)
Friendship group membership
Residence
Novi Pazar
---
Biography
Usame Zukorlic was born in 1992 in the city of Constantine, Algeria, to the late Mufti Muamer Zukorlic and Umeja Abu Taha Zukorlic. He completed his elementary education in Novi Pazar, followed by secondary education at the Gazi Isa-bey madrasa. He served as President of the Youth for two years from 2012 to 2014.
He continued his education at the International University in Novi Pazar, where he earned a degree in law, followed by the Faculty of Islamic Studies, where he earned a degree in pedagogy and communication. During that period, he held the position of Deputy Director of Sandzak TV.
He earned his Master's degree at the International University in Novi Pazar in the field of economics.
He was a teacher at Madrasa Gazi Isa-bey and worked as an assistant for law at the International University in Novi Pazar.
He is the founder of the Developmental Educational Society - RED, association that founded BioSan, ITSan and the famous Bosniak DNA project, of which he is the coordinator.
Holds the post of project manager at the Faculty of Islamic Studies and Deputy Chairperson of the Republic Electoral Commission.
He has attended numerous seminars on the topics of economics, project management, combating extremism, educational skills and the media.
The death of his father found him at his postgraduate studies in Istanbul, after which he was elected acting president of the party. At the Congress of the Justice and Reconciliation Party, he was elected president of the Party for a full term.
The Mufti's Legacy - SPP Electoral List headed by Usame Zukorlic won the 2022 parliamentary elections by receiving more votes than the two competing parties combined.
Speaks Bosnian, English and Arabic.
Married, father of four.
monday, 11 december
No announcements for selected date