National Assembly of the Republic of Serbia / Citizens' corner / Education center / Educational programs / Your Vote – Your Future
Your Vote – Your Future
The program titled "Your Vote – Your Future" is implemented by the National Assembly of the Republic of Serbia in cooperation with the Government of the Republic of Serbia and the Secretariat General of the President of the Republic, with the support of the OSCE Mission in Serbia.

Publication titled "Your Voice – Your Future" represents part of the program.

contact:
Education and Assembly Heritage Presentation Group
contact telephone:
011-3026-273; 011-3026-236
e-mail:
edukacija@parlament.rs
Politics? Why should I be interested?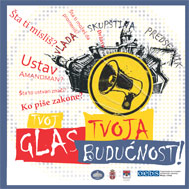 friday, 8 december
No announcements for selected date