National Assembly of the Republic of Serbia / Activities / Activity details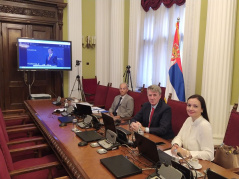 9 September 2021 Zarko Obradovic and Justina Pupin Koscal take part in the Inter-Parliamentary Conference on the Common Foreign and Security Policy and the Common Security and Defence Policy
Thursday, 9 September 2021
Zarko Obradovic and Justina Pupin Koscal Take Part in Inter-Parliamentary Conference on Common Foreign and Security Policy and Common Security and Defence Policy
Prof Dr Zarko Obradovic, Chairman of the Foreign Affairs Committee, and Justina Pupin Koscal, member of the Defence and Internal Affairs Committee of the National Assembly of the Republic of Serbia, took part in the Inter-Parliamentary Conference on the Common Foreign and Security Policy and the Common Security and Defence Policy, held on 9 September 2021 as part of the parliamentary dimension of Slovenia's Presidency of the Council of the European Union.
---
Responding to the many questions of the participants of the Conference concerning the Western Balkans' EU accession prospects, whether there would be further conditioning and complaints of double standards, Josep Borrell, EU High Representative for Foreign Affairs and Security Policy, stressed that the Western Balkans' EU accession process continues and that there would be no further conditions.
Speaking of Serbia, he said that solving the problems of Belgrade and Pristina is important, but not crucial on our country's path towards the European Union.
The Conference also focused on strengthening the regional partnership with the Western Balkan countries through a common security and defence policy.
---
---
saturday, 16 october
No announcements for selected date