National Assembly of the Republic of Serbia / Activities / Activity details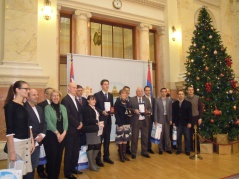 Wednesday, 28 December 2011
Youth and Sports Committee Members Talk to Minister of Youth and Sport
The members of the Youth and Sports Committee met with Minister of Youth and Sport Snezana Samardzic Markovic at the National Assembly House today, to discuss the cooperation between the Committee and the Ministry in the previous period.
---
Committee Chairman Milan Vuckovic stressed that the Committee's work in the last three years was constructive and the Committee members cooperative regardless of their party affiliation. Vuckovic thanked the Ministry representatives for the successful cooperation, hoping that the future Government and Ministry would continue to cooperate with the competent National Assembly Committee.

Minister of Youth and Sport Snezana Samardzic Markovic congratulated the Committee on its results so far, hoping that the successful cooperation between the National Assembly and the executive power would continue in future, with a special focus on promoting the sphere of youth and sport.

The Committee members and Ministry representatives also spoke of the need for the next Government to form a Ministry of Youth and Sport so that the youth and the field of sport may receive adequate treatment by the state.

On the occasion, the Minister presented the Committee members with the Ministry's letters of thanks for the successful cooperation as a sign of respect for their efforts and results in developing and promoting sport and youth policy in the Republic of Serbia, while the Committee Chairman received the Ministry's plaque.

In addition to Committee Chairman Milan Vuckovic, the meeting was attended by the following Committee members and deputy members: Filip Stojanovic, Tijana Nikolic, Jadranka Jovisic, Aleksandar Pejcic, Sladjan Mijaljevic, Tamas Tot, Djordje Milicevic, Vuk Dincic, Radovan Radovanovic, Miljan Randjelovic, Zivojin Stankovic and Srdjan Mikovic, as well as Dragan Atanasov, Assistant Minister of Youth and Sport.


---
---
sunday, 2 april
No announcements for selected date