National Assembly of the Republic of Serbia / Activities / Activity details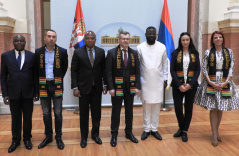 3 October 2019 The Head and members of the PFG with Ghana and the delegation of the Foreign Affairs Committee of the Parliament of Ghana
Thursday, 3 October 2019
Your Interests Will Be Our Interests, Says Ghanaian Parliamentary Delegation
The Head and members of the PFG with Ghana met with a delegation of the Foreign Affairs Committee of the Parliament of Ghana, which assured them that Serbia can count on Ghana's support on matters of the highest the most importance.
---
The Head of the PFG with Ghana MA Igor Becic said he was concerned about Pristina's initiative to make the self-declared state of Kosovo a member of INTERPOL. He reminded the guests of the results of the vote taken at the latest INTERPOL General Assembly when most of the members voted against the bid and took the opportunity to ask Ghana to at least abstain from voting in case of a new membership bid.
The Chairperson of the Ghanaian Foreign Affairs Committee Frank Annoh-Dompreh said that past mistakes would not be repeated and that Serbia can count on Ghana's friendly support.
"Your interests will be our interests at the international level. I assure you that we will do nothing to undermine you efforts to safeguard the lives of the people in Kosovo-Metohija", Annoh-Dompreh said.
Becic said that the continuous efforts of the Provisional Institutions of Self-Government in Pristina to make so-called Kosovo a member of international organizations is not in the long-term interest of either Belgrade, Pristina or the international partners with whom we share the same interest - stability in the region.
The officials agreed that the two countries' traditional friendship, historic ties and reciprocal support deserve to be strengthened and deepened even further. Advancing interparliamentary cooperation should be pursued with renewed efforts, they opined and Annoh-Dompreh said that, besides the recent series of high-tier visits, the Ghanaian Parliament contributed to the advancement of cooperation by forming a PFG with Serbia.
Becic also urged to promote economic cooperation, especially in the field of agriculture.
The officials concluded that geographical distance should not be an obstacle to furthering the traditionally friendly relations and the ratification of a parliamentary cooperation agreement could lend the matter additional impulse.
The meeting was attended by PFG members Jelena Zaric Kovacevic, Aleksandar Markovic and Andrijana Avramov, member of the Foreign Affairs Committee of the Parliament of Ghana Samuel Okudzeto Ablakwa and delegation secretary Charles Derry Tenzagh.


---
---
monday, 2 october
10.40 - the National Assembly Speaker's address at the event "Joy of Europe" (National Assembly House, 13 Nikola Pasic Square, Central Hall)

12.00 - continuation of the sitting of the Committee on the Economy, Regional Development, Trade, Tourism and Energy (National Assembly House, 13 Nikola Pasic Square, hall 2)

14.15 - the National Assembly Speaker meets with a delegation of rapporteurs of the Parliamentary Assembly of the Council of Europe Monitoring Committee (National Assembly House, 13 Nikola Pasic Square, hall 1)

16.00 - the heads of the parliamentary groups meet with the delegation of rapporteurs of the Parliamentary Assembly of the Council of Europe Monitoring Committee (National Assembly Building, 14 Kralja Milana Street, Blue Salon)

17.45 - the members of the Committee on Constitutional and Legislative Issues meet with the delegation of rapporteurs of the Parliamentary Assembly of the Council of Europe Monitoring Committee (National Assembly Building, 14 Kralja Milana Street, Blue Salon)