National Assembly of the Republic of Serbia / Activities / Activity details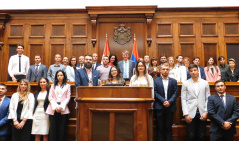 19 June 2019 Foreign Affairs Committee Chairman Prof. Dr Zarko Obradovic and the attendees of project "Young Balkan Leaders"
Wednesday, 19 June 2019
Young Balkan Leaders Visit National Assembly
The attendees of project "Young Balkan Leaders" and representatives of the Sofia Institute of Politics visited the National Assembly where they met with the Chairman of the Foreign Affairs Committee Prof. Dr Zarko Obradovic.
---
The Foreign Affairs Committee Chairman told the young visitors from North Macedonia, Bulgaria and Serbia that the parliament is the most important institution in a country, one that passes laws that affect the lives of its citizens. He praised the project they are part of as important and useful for young people with ambitions to become the future leaders in their countries and was most pleased by their wish to learn about the work of the National Assembly of the Republic of Serbia.
Obradovic spoke about Serbia and its chief foreign policy goal, first and foremost the country's European path viz. EU accession talks and why the process is slow, especially in light of Chapter 35. Obradovic explained the situation in Kosovo-Metohija and the incidents that led to the halt in the Belgrade-Pristina dialogue. He said that Serbia is all in favour of a widespread regional cooperation because it can create a better life for the people and opportunities for economic cooperation. Serbia also wants to develop good relations both with world powers and the countries of the former Non-Aligned Movement, said the Foreign Affairs Committee Chairman, adding that only tolerance, understanding and dialogue can lead to lasting solutions, especially in the Balkans.
The attendees of project "Young Balkan Leaders" wanted to know more about the attitude to NATO membership, capacities to meet the Copenhagen Criteria, Serbia's readiness to continue the dialogue with Pristina and the country's relations with the Russian Federation and the People's Republic of China.


---
---
tuesday, 4 october
10.00 - press conference of the GREEN – LEFT CLUB, DON'T LET BELGRADE D(R)OWN, WE HAVE TO Parliamentary Group (National Assembly House, 13 Nikola Pasic Square, Central Hall)

11.00 - sitting of the Committee on Education, Science, Technological Development and the Information Society (National Assembly House, 13 Nikola Pasic Square, hall 3)

11.00 - sitting of the Committee on Finance, State Budget and Control of Public Spending (National Assembly House, 13 Nikola Pasic Square, hall 2)

12.00 - press conference of MP Tatjana Manojlovic (National Assembly House, 13 Nikola Pasic Square, Central Hall)

12.15 - press conference of the HOPE – NEW DSS – POKS Parliamentary Group (National Assembly House, 13 Nikola Pasic Square, Central Hall)