National Assembly of the Republic of Serbia / Activities / Activity details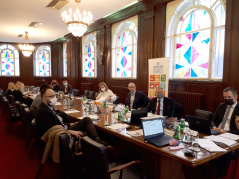 10 February 2021 Workshop on the problem of depopulation in Serbia
Wednesday, 10 February 2021
Workshop on Problem of Depopulation in Serbia
The members of the National Assembly's Focus Group for the Development of Control Mechanisms for the Process of Implementation of Sustainable Development Goals took part in a workshop dedicated to the problem of depopulation in Serbia, organised by the United Nations Development Program (UNDP).
---
The different aspects of the problem of depopulation in Serbia were presented to the members of the Focus Group by UNDP's Irena Cerovic who delineated UNDP's approach to dealing with this issue and possible solutions. Sonja Licht of the Belgrade Fund for Political Excellence also spoke about this topic.
The presentation was followed by a comprehensive and fruitful discussion that all the attending MPs took part in.
The meeting also touched on the Focus Group's work plan for 2021 and its plans for cooperation with UNDP.
In addition to the coordinator, Dr Milorad Mijatovic, the meeting was attended by Focus Group members Dr Vladimir Orlic, Radovan Tvrdisic, Dubravka Filipovski, Veroljub Arsic, Milanka Jevtovic Vukojicic, Ljiljana Malusic, Goran Kovacevic and Jasmina Karanac.
---
---
sunday, 26 june
No announcements for selected date