National Assembly of the Republic of Serbia / Activities / Activity details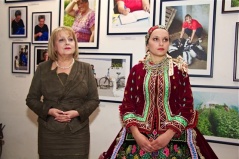 30 March 2012 National Assembly Speaker Prof. Dr Slavica Djukic Dejanovic at the opening of the photo exhibition
Friday, 30 March 2012
Women's Rights Caravan
The Speaker of the National Assembly of the Republic of Serbia, Prof. Dr Slavica Djukic Dejanovic opened the photo exhibition Women in Sports and Women in the Country, the closing event of the Women's Rights Caravan campaign.
---
The campaign took place in March, proclaimed the month of women's rights, and was aimed at raising awareness on topics relating to women's rights and gender equality.
Slavica Djukic Dejanovic said that the event adds to the 2012 human rights calendar. Declaring that women in sport can be faster, better, stronger and achieve more – just like men, and in the country they transform strength into momentum, the National Assembly Speaker said that everything can be achieved by dialogue and wisdom. "Women are present in public and social life, the 54 of us at the Assembly worked toward a higher representation and the next legislation will comprise 84 women", said Djukic Dejanovic.
The Women's Rights Caravan campaign was set in motion by the Center of Modern Skills. The project was endorsed by the Ministry of Human and Minority Rights, Public Administration and Local Self-Government – Human and Minority Rights Directorate, as part of the 2012 Human Rights Calendar programme.

---
---
monday, 25 september
9.00 - the National Assembly Speaker meets with the Chairman of the Shanghai Committee of the Chinese People's Political Consultative Conference (National Assembly House, 13 Nikola Pasic Square, hall 1)

11.00 - the members of the European Integration Committee meet with the German Ambassador to Serbia (National Assembly House, 13 Nikola Pasic Square, hall 2)