National Assembly of the Republic of Serbia / Activities / Activity details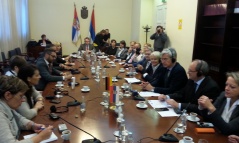 4 October 2016 The members of the European Integration Committee in meeting with the delegation of the German Bundestag
Tuesday, 4 October 2016
We Expect Opening of New EU Negotiations Chapter by End of Year
The members of the European Integration Committee met today with a delegation of the German Bundestag headed by Dr Middelberg Mathias, member of the Finance Committee and chair of the Lower Saxony CDU/CSU provincial group at the German Bundestag, and Stephan Albani, Chair of the Parliamentary Friendship Group with South-Eastern Europe.
---
Committee Chairperson Marinika Tepic thanked the German parliamentarians for Bundestag's support of the EU enlargement policy and Serbia's European integration process. She said that the negotiating positions for chapters 25 and 26 were received yesterday, which the European Integration Committee, Culture and Information Committee and the Committee on Education, Science, Technological Development and the Information Society are to review before they are sent on to Brussels.

She also briefed the Bundestag delegation on the role of the National Assembly and the European Integration Committee in the negotiating process, as well as the cooperation with the civil sector through the National Convention on the EU.

"At the moment, Serbia has opened the most important EU negotiating chapters, chapters 23 and 24, and no less important chapter 35, the monitoring and fulfilling of which we know our Bundestag colleagues are following with close attention. Chapter 32 has also been opened. We are expecting the green light to open chapters 5, 25 and 26 by the end of the year, which are technically ready to be opened", said Tepic.

The European Integration Committee Chairperson told the German parliamentarians that Serbia remains committed to peace and stability in the Western Balkans and announced close cooperation with the relevant committees of parliaments in the region. She also stressed that Serbia proved itself ready to address the migrant crisis from the aspect of respecting human rights.

The delegation of the German Bundestag applauded the opening of the first negotiation chapters in the Serbia-EU talks, especially the involvement of the non-governmental and civil sector in the process. The German MPs reaffirmed their support for Serbia's European path pointing out that the Balkans is of special interest for them, so it is essential to resolve all the problems because without cooperation there can be no common progress, as evidenced in the example of migrant crisis.

Besides Chairperson Tepic, the meeting with the delegation of the German Bundestag was also attended by Committee members Dusica Stojkovic, Zarko Micin, Vesna Markovic, Aleksandar Stevanovic, Haji Milorad Stosic and Elvira Kovacs.


---
---
tuesday, 18 january
14.00 - the National Assembly Speaker meets with OSCE Parliamentary Assembly Secretary General (National Assembly House, 13 Nikola Pasic Square, diplomatic salon of Prince Pavle)