National Assembly of the Republic of Serbia / Activities / Activity details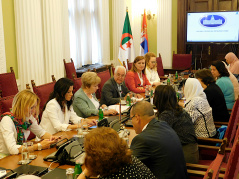 10 July 2019 The Women's Parliamentary Network in meeting with the Algerian parliamentary delegation
Wednesday, 10 July 2019
WPN Meets with Algerian Parliamentary Delegation
Today, at the National Assembly, the members of the Women's Parliamentary Network received the Algerian parliamentary delegation headed by Jafar Noara Sadia.
---
WPN coordinator Vera Paunovic said that the two countries' traditionally good relations dating back more than half a century are accompanied by a mutual understanding for the problems they are faced with. She thanked Algeria for not recognizing the unilaterally declared independence of so-called Kosovo, adding that there is room to advance bilateral cooperation in the fields of labour, employment, healthcare and social welfare.
Speaking of the WPN's work, Vera Paunovic said that the informal network founded in 2013 unites women MPs of different political affiliations for a greater cause. The WPN is a good example that it is possible to work together, political and ideological differences notwithstanding, and help advancing the position of women through legislative activity.
She said that thanks to the WPN's efforts, gender-responsive budgeting became the integral part of the law on the budget and budget system and the Criminal Code was amended to eliminate the statute of limitation on sex crimes perpetrated against minors.
The WPN coordinator also added that the local self-governments and the Assembly of AP Vojvodina had set up councilwomen's networks modelled after the parliamentary network.
Speaking of the position and participation of women in the decision-making process, Vera Paunovic said that with its 93 women MPs the Serbia Parliament has approached 40% female representation, adding that women also hold other important posts in the country such as Prime Minister, Government ministers and that of Governor of the National Bank of Serbia.
Jafar Noara Sadia emphasized the importance of the social position of women as an indicator of human rights in a society, adding that it has been one of Algeria's priorities after achieving independence. Both Eastern and Western societies strive for full gender equality which is a global fight, she said.
Jafar Noara Sadia highlighted the significance of the Algerian parliamentarians' visit to the National Assembly because the exchange of experiences and best practice examples will help advance the operation of the Algerian Parliament.
She concluded that the exchanged experiences and best practice examples of the Women's Parliamentary Network would be very useful for the future efforts of the Algerian Parliament's network of women parliamentarians.
In addition to WPN coordinator Vera Paunovic, the meeting was also attended by WPN members Marija Obradovic, Dubravka Filipovski and Stefana Miladinovic.


---
---
monday, 23 may
No announcements for selected date