National Assembly of the Republic of Serbia / Activities / Activity details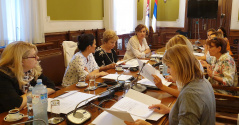 2 July 2019 Women's Parliamentary Network
Tuesday, 2 July 2019
WPN Meeting
The members of the Women's Parliamentary Network elected a new coordinator, MP Vera Paunovic. Besides electing a new coordinator, the WPN members also analyzed the Network's activities in the previous and made plans for the coming period.

---
The MPs discussed the coming visit of the Algerian parliamentary delegation, 9 – 11 July, which the WPN is to meet with and the WPN workshop scheduled for 15 July 2019 at the National Assembly, organized with the support of UNDP and OSCE.
The WPN also discussed having a public hearing by the end of the month per the recommendations of the UN Committee on the Elimination of Discrimination against Women.
The MPs also discussed the final implementation of gender-responsive budgeting, especially at the level of local self-governments and how successful it is, as well as the coming WPN National Conference, held traditionally at the end of the year at the National Assembly House, planned for November 2019.
The WPN members stressed the importance of adopting the new gender equality law aimed at introducing more efficient mechanisms for the equal participation of men and women in all spheres of the public and private sector.
The meeting was attended by MPs Vera Paunovic, Dubravka Filipovski, Dr Aleksandra Tomic, Marija Obradovic, Stefana Miladinovic, Nada Lazic, Dr Aleksandra Jerkov, Natasa Mihailovic Vacic, Olena Papuga and Dr Sanda Raskovic Ivic.


---
---
tuesday, 4 october
10.00 - press conference of the GREEN – LEFT CLUB, DON'T LET BELGRADE D(R)OWN, WE HAVE TO Parliamentary Group (National Assembly House, 13 Nikola Pasic Square, Central Hall)

11.00 - sitting of the Committee on Education, Science, Technological Development and the Information Society (National Assembly House, 13 Nikola Pasic Square, hall 3)

11.00 - sitting of the Committee on Finance, State Budget and Control of Public Spending (National Assembly House, 13 Nikola Pasic Square, hall 2)

12.00 - press conference of MP Tatjana Manojlovic (National Assembly House, 13 Nikola Pasic Square, Central Hall)

12.15 - press conference of the HOPE – NEW DSS – POKS Parliamentary Group (National Assembly House, 13 Nikola Pasic Square, Central Hall)