National Assembly of the Republic of Serbia / Activities / Activity details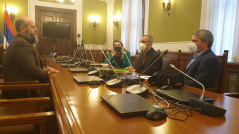 24 March 2021 National Assembly Deputy Speaker Dr Muamer Zukorlic with the Head the World Health Organization Serbia Office Dr Marijan Ivanusa
Wednesday, 24 March 2021
Vital to Reform Healthcare System in Sandzak
National Assembly Deputy Speaker Dr Muamer Zukorlic met today with the Head the World Health Organization Serbia Office Dr Marijan Ivanusa to discuss increasing the number of vaccinated citizens at the local level.
---
Dr Ivanusa wanted to know how to boost COVID-19 immunization at the local level as, according to research, the south of Serbia lags behind in the number of vaccinated people compared to central Serbia.
Dr Zukorlic said that there is great distrust in medical staff among the people of Sandzak and the key to restoring that trust lies in personnel reconstruction. He added that to have any impact, the changes in the personnel structure need to include other relevant institutions so as to change the attitude towards the effectiveness of vaccination.
Dr Zukorlic went on to say that science operates according to its own principles and the speed of the spread of the pandemic did not allow it to give any concrete answers to all the questions in the fight against the spread of the virus, so some steps were skipped, which further confused citizens, making it relatively easy to manipulate inaccurate information, which is where this reservation of citizens regarding vaccination originated.
Dr Ivanusa wanted to know how to effect change in a relatively short period i.e. how to restore the citizens' trust and persuade them that vaccination is the fastest and most effective way to combat the pandemic. The MP explained that there are no shortcuts, but there can be no change unless we embark on the road to achieve it.
The officials agreed to have several local talks with the Mayor of Novi Pazar, the director of the General Hospital, as well as people from other structures who respect the trust of the citizens, so that they could start this process.
---
---
tuesday, 16 august
12.00 - press conference of MP Srdjan Milivojevic (National Assembly House, 13 Nikola Pasic Square, Central Hall)