National Assembly of the Republic of Serbia / Activities / Activity details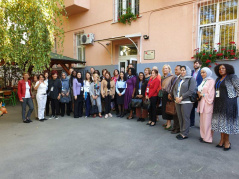 16 October 2019 MPs Jelena Mijatovic and Mira Petrovic, a group of IPU parliamentarians and representatives of the UNICEF Office Belgrade visited the Centre for Protection of Infants, Children and Youth
Wednesday, 16 October 2019
Visit to the Centre for Protection of Infants, Children and Youth
Members of the National Assembly delegation to IPU Jelena Mijatovic and Mira Petrovic, a group of IPU parliamentarians and representatives of the UNICEF Office Belgrade visited the Centre for Protection of Infants, Children and Youth.
---
The objective of the visit, organized under the auspices of the 141st IPU Assembly in Belgrade, was to present the situation and operation of the largest residential institution for children in Serbia.

The Centre accommodates a total of 355 children and the professionals working there are constantly trying to improve the quality of care by engaging volunteers, organizing inclusive activities and actively facilitating contacts between parents and children whenever possible.
The process of de-institutionalization was initiated in 2000 as a priority facet of the overall social system reform and as one of the long-term priorities of the Government of the Republic of Serbia. Today, Serbia is one of the countries with the lowest institutionalization rate in the region. However, despite the progress made, the overall rate of child/family separation remains high which calls for further investments in strengthening family support. Children with disabilities are of particular concern, as they represent 72% of all children in residential institutions.


---
---
thursday, 30 june
10.00 - the National Assembly Speaker delivers keynote address at the CSR Serbia 2022 conference (National Assembly House, 13 Nikola Pasic Square, Small Hall)

11.00 - the National Assembly Speaker meets with the EU Special Representative for the Belgrade-Pristina Dialogue (National Assembly House, 13 Nikola Pasic Square, hall 1)

15.00 - sitting of the Foreign Affairs Committee (National Assembly House, 13 Nikola Pasic Square, hall 2)

20.00 - the National Assembly Speaker speaks at the closing ceremony of the international competition Mathematical Grammar School Cup (National Assembly House, 13 Nikola Pasic Square, Small Hall)