National Assembly of the Republic of Serbia / Activities / Activity details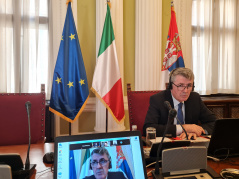 23 April 2021 The Chairman of the National Assembly Foreign Affairs Committee Prof. Dr Zarko Obradovic
Friday, 23 April 2021
Video Meeting of National Assembly Foreign Affairs Committee Chairman and Italian Chamber of Deputies Foreign Affairs Committee Chairman
The Chairman of the National Assembly Foreign Affairs Committee Prof. Dr Zarko Obradovic talked today via video link with Piero Fassino, Chairman of the Committee on Foreign and European Affairs of the Italian Chamber of Deputies (Lower House of the Italian Parliament).
---
The officials exchanged opinions and views on the upcoming parliamentary conference "Western Balkans between multipolarism and the European integration process", to be held on Monday, 26 April 2021, organised by the Italian Chamber of Deputies.
They concluded that bilateral and parliamentary relations between Serbia and Italy are at a very high level, with room for further development and strengthening.
The meeting of the two committee chairmen was also attended by the ambassadors of Serbia in Rome and Italy in Belgrade.
---
---
tuesday, 5 july
No announcements for selected date